How to Make Your PowerPoint 2007 Presentation a User-Run Presentation
How to Make Your PowerPoint 2007 Presentation a User-Run Presentation
PowerPoint displays a taskbar along the bottom of the window in a user-run presentation. PowerPoint lets you make a scrollbar appear along the right side of the window as well so that people viewing your presentation can scroll from slide to slide. Previous and Next don't appear in a user-run presentation. To get from slide to slide, users have to click action buttons and hyperlinks.
Follow these steps to declare your presentation a user-run presentation and maybe allow users to navigate from slide to slide with the scrollbar: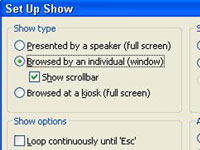 3

Select the Browsed by an Individual (Window) option button.

This option button is found under Show Type.
5

Click OK.

Your presentation is no longer quite yours. It also belongs to all the people who will view it in your absence.