How to Insert WordArt into a PowerPoint 2007 Table
How to Insert WordArt into a PowerPoint 2007 Table
PowerPoint offers WordArt on the Insert tab on the Ribbon providing a convenient way to add text box text with WordArt formatting onto your PowerPoint slide. To insert WordArt, Move to the slide on which you want to insert WordArt, and follow these steps: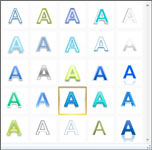 1

Click the Insert tab on the Ribbon and then click the WordArt button in the Text group.

Clicking the WordArt button opens the WordArt Styles Gallery.
3

Click the WordArt text box and then type your text.

Whatever you need to say, now's your chance.
4

Apply any other WordArt formatting necessary.

That's it! Your WordArt piece is finished.