How to E-Mail a PowerPoint 2007 Presentation
How to E-Mail a PowerPoint 2007 Presentation
If your PowerPoint presentation is a team effort, you need a way to share it. Emailing copies of the PowerPoint presentation to your colleagues is easy. PowerPoint includes a built-in feature for doing that. Open the presentation that you want to send out for review, and follow these steps: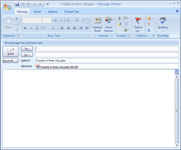 1

Choose Office→Send→Email.

PowerPoint summons Outlook and creates a new message with the Subject line filled in ("Please review . . ."), the presentation attached to the message, and the message text set to "Please review the attached document."
2

In the To field, add e-mail addresses.

You can type the e-mail addresses directly into the To field, or you can click the To button to call up the Address Book. You can then use the Address Book to select your reviewers.If you want to send the presentation to more than one person, separate the e-mail addresses with semicolons.
3

(Optional) Change the Subject field or message body.

You probably want to say something a little more cordial than the bland "Please review . . ." messages that PowerPoint creates automatically.
4

Click the Send button.

And there it goes!