How to Duplicate a PowerPoint 2007 Slide
How to Duplicate a PowerPoint 2007 Slide
PowerPoint sports a Duplicate Slide command that lets you duplicate an entire slide. That way, after you toil over a slide to get its formatting just right, you can create a duplicate slide to use as the basis for another slide in your presentation.
To duplicate a slide: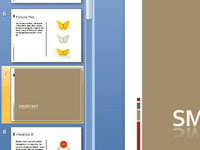 1

Select the slide(s) you want to duplicate.

In Slides view click the thumbnail of the slide you want to duplicate.