How to Design a Table with a PowerPoint 2007 Table Style
How to Design a Table with a PowerPoint 2007 Table Style
The fastest way to get a good-looking table in PowerPoint is to select a table style in the Table Styles gallery and let PowerPoint do the work for you. A PowerPoint table style is a ready-made assortment of colors and border choices. You can save yourself a lot of formatting trouble by selecting a table style. After you've selected a table style, you can modify it by selecting or deselecting Table Style Options check boxes.
Select your table and follow these steps to choose a table style:
1

Click the (Table Tools) Design tab.

The Design view opens.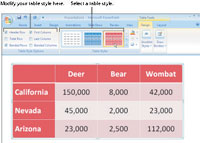 2

Open the Table Style gallery.

Once there, move the pointer over table style choices to live-preview the table
3

Select a table style.

To remove a table style, select Clear Table on the bottom of the Table Styles gallery.