How to Create a Hyperlink to Another PowerPoint 2013 Presentation or Website
How to Create a Hyperlink to Another PowerPoint 2013 Presentation or Website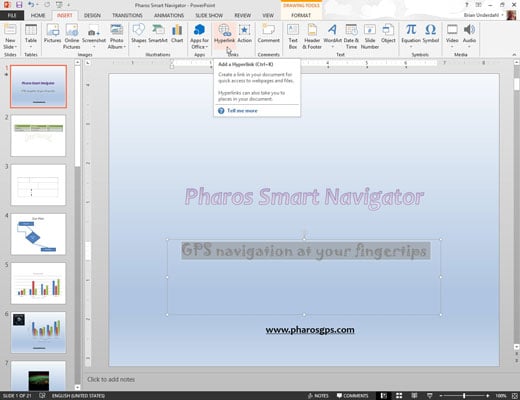 14
Select the text or graphical object that you want to make into a hyperlink. Click the Hyperlink button in the Links group on the Insert tab.
The Insert Hyperlink dialog box appears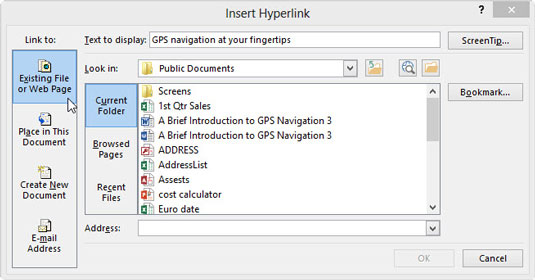 24
Click the Existing File or Web Page icon in the list of icons on the left side of the dialog box.
You can also link to a specific slide within another presentation by clicking the Bookmark button in the Insert Hyperlink dialog box. This brings up another dialog box listing the slides in the selected presentation. Choose the slide you want to link to; then click OK to return to the Insert Hyperlink dialog box.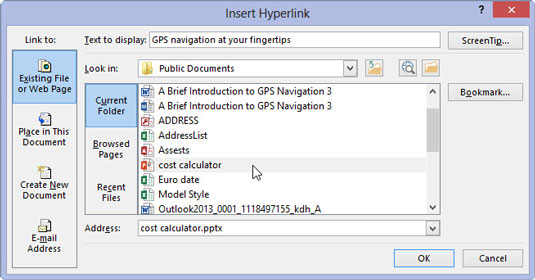 34
Click Current Folder and select the file that you want to link to.
You might have to rummage about your hard drive to find the presentation. The presentation that you link to doesn't have to be in the same folder or even on the same drive as the current presentation. In fact, you can link to a presentation that resides on a network file server.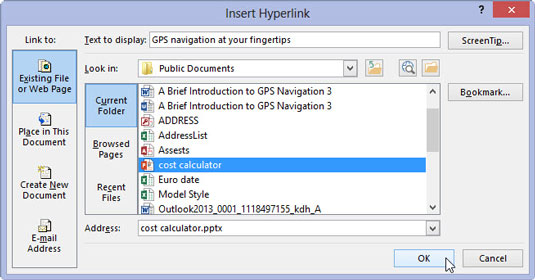 44
Click OK.
When you follow a link to another presentation, PowerPoint automatically opens the other presentation. This means that you now have both presentations open. When you're finished viewing the second presentation, close it to return to the original presentation.