How to Create a Bulleted List on a PowerPoint 2007 Slide
How to Create a Bulleted List on a PowerPoint 2007 Slide
Most PowerPoint presentations have slides that include a bulleted list. PowerPoint 2007 comes with bullet styles, making the creation of your bulleted lists easy.
1

Highlight the paragraphs to which you want to add bullets.

To add a bullet to just one paragraph, just place the cursor anywhere in the paragraph.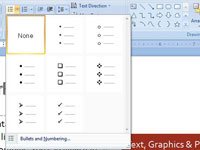 2

Click the Bullets button in the Paragraph group of the Home tab.

Click the Bullets button once to add bullets and click it again to remove bullets.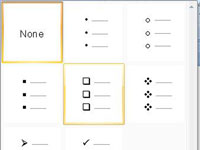 3

Choose a bullet style.

Click the Bullets button down arrow.

If you don't like the appearance of the bullets that PowerPoint uses, select a different bullet character, picture, or even a motion clip by following these optional steps.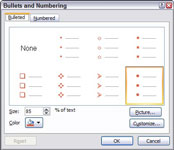 4

Open the Bullets and Numbers dialog box.

Click the arrow at the right of the Bullets button and then choose Bullets and Numbers. Then choose a bullet character, change the bullet's color, or size.
5

Click Customize.

This displays a dialog box full of useful alternative bullet characters, such as pointing fingers, a skull and crossbones, and a time bomb. Pick the bullet that you want to use and then click OK.
6

Use the Color drop-down list.

Colors from the current color scheme appear in the drop-down menu that appears. For additional color options, choose More Colors.