How to Add Clip Art to a PowerPoint 2007 Slide
How to Add Clip Art to a PowerPoint 2007 Slide
You access clip art through the PowerPoint Clip Art task pane that lets you search by keyword for a picture to embellish your PowerPoint presentation. The first time you access the PowerPoint Clip Art task pane, a dialog box asks to search your hard drive and catalog all your pictures. Then you can access your own picture files.
Follow these steps to drop clip art into your presentation:
1

Move to the slide on which you want to plaster the clip art.

If you want the same clip art picture to appear on every slide, move to Slide Master View.
2

On the Ribbon, choose InsertIllustrationsClip Art.

After a hesitation, the Clip Art task pane pops.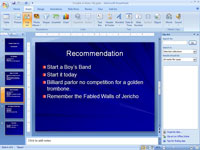 3

Type a keyword in the Search Text box and click Search.

PowerPoint searches through the Clip Organizer to locate clip art; it displays thumbnails of the pictures it finds in the Clip Art task pane.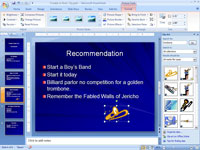 4

Click the picture to use.

A Ribbon Format tab with tools for working with pictures appears whenever you select a picture object.
5

Click the Clip Art task pane's Close button in the upper-right corner of the task pane.

The task pane vanishes.