How to Add a Sound from the Microsoft Web Site to Your PowerPoint Slide
How to Add a Sound from the Microsoft Web Site to Your PowerPoint Slide
PowerPoint lets you insert sound files into your PowerPoint Slides. Many basic sounds come with PowerPoint. Many more useful sounds are available on the Microsoft Web site. To search Microsoft for a sound, follow these steps:

1

Click the down-arrow on the Sound button and then choose Sound From Clip Organizer.

This summons the Clip Art task pane, which features a list of sound files that are available for your use.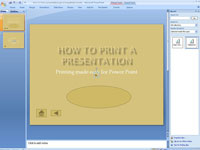 2

Scroll through the list to find the sound you want and then double-click it.

This adds the found to your file.