Display Your PowerPoint 2007 Presentation
Display Your PowerPoint 2007 Presentation
You worked hard designing your PowerPoint 2007 presentation. When your PowerPoint masterpiece is ready, you can display it on the screen. Just follow these steps:
1

Choose the Slide Show tab on the Ribbon

Click the From Beginning button in the Start Slide Show group.

There are several shortcuts to this command. You can also start the show by pressing F5 or by clicking the Slide Show button, located with the other view buttons in the lower-right corner of the screen.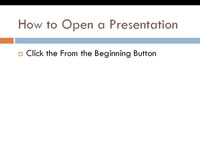 3

View the next slide.

Press Enter to advance to the next slide.

You can keep pressing Enter to call up each slide in the presentation. If you don't like the Enter key, you can use the spacebar instead.

If you want to go back a slide, press Page Up.
4

Press Esc.

You don't have to wait until the last slide is shown. If you find a glaring mistake in a slide or if you just get bored, you can press Esc at any time to return to PowerPoint.