Adding SmartArt to a PowerPoint Slide in Office 2008 for Mac
Adding SmartArt to a PowerPoint Slide in Office 2008 for Mac
Sometimes, you'll want graphics in your PowerPoint presentations — an organizational chart, flow chart, matrix, pyramid chart, and so on. PowerPoint 2008 for Mac has a feature called SmartArt Graphics to help you create these types of graphics quickly and easily. You can start with information from a bulleted list or create a blank graphic and add text to it later. Either way, you end up with a slide that's more interesting and probably more informative than plain text.
Using SmartArt instead of text for some of your slides will make your presentation stand out and give it more visual impact than if it were all text. With almost no effort on your part, you can change a boring all-text slide into a dynamic graphical slide.
1

Select existing text (or not).

If you select text before you take the next step, that text will appear in your graphic. If you don't select some text before the next step, you create an empty SmartArt graphic with no text in it yet. You can also right-click (or Ctrl-click) a text block and choose Convert to Smart Art in the contextual menu.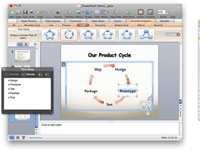 2

Click SmartArt Graphics in the Elements Gallery, click one of its tabs, and then click a style.

The first figure shows the Text Cycle style; the second figure uses the Continuous Cycle style.
3

Click a SmartArt object to select it.

You see a blue frame. The little dots in the corners and the middle of each side are handles; click and drag them to resize the entire graphic. If you click the little text pane icon hanging off the top-left corner of the frame, you also see a text pane with a bulleted list of the items that appear in the SmartArt graphic. When you select one of them, the corresponding item in the graphic is also selected. Or you can select an item in the graphic by clicking it in the graphic.
4

Resize any selected objects by dragging their handles or apply formatting from the Formatting Palette.

In the Formatting Palette's SmartArt Graphic Styles panel, you can change the color, style, or shape of SmartArt.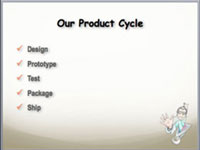 5

Finally, if you click a SmartArt graphic on a slide, you can change it to any other SmartArt graphic by clicking a different SmartArt graphic thumbnail.

If you don't like it, choose Edit→Undo (shortcut: Command+Z) and try a different one. This figure shows a slide before and after applying a SmartArt graphic.