How to Transmit Electronic Banking Instructions with QuickBooks 2015
How to Transmit Electronic Banking Instructions with QuickBooks 2015
You can do all of your electronic banking with QuickBooks. After you describe the online payments and account transfers that you want QuickBooks to make, you transmit that information to the bank. To do so, follow these steps:
2

From the Financial Institution drop-down list from the window pane on the left side of the screen, choose the bank to which you're transmitting payment and transfer instructions.

Make sure you choose correctly.
3

Review the payment and transfer instructions one last time.

Take one last peek at the Items to Send list to make sure that any payment and transfer instructions that you're sending are correct. If you have questions about a particular instruction, click it and then click the Edit button. If you know that a particular payment instruction is incorrect, click it and then click the Delete button.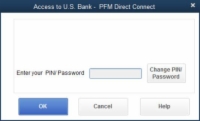 4

Click the Send/Receive Transactions button to transmit the payment and transfer instructions.

QuickBooks prompts you to provide a PIN with a cute little dialog box. If you're transmitting payment and transfer instructions for the first time, QuickBooks probably prompts you to change your PIN. If you don't have any transactions to "send," QuickBooks renames the button Receive Transactions.
5

Review any transactions that the bank tells you about.

After QuickBooks makes the connection and sends and receives transactions, QuickBooks updates the information shown in the Online Banking Center window. You can get more information about many of the items listed by clicking on them. You can add transactions that QuickBooks downloads from the bank but that are not yet in your bank account registers by clicking the Add Transactions to QuickBooks button.
6

Click Close.

Hey, when you're done, you're done.