How to Set Up the QuickBooks 2013 Chart of Accounts List
How to Set Up the QuickBooks 2013 Chart of Accounts List
The Chart of Accounts list in QuickBooks 2013 is a list of accounts that you use to categorize your income, expense, assets, liabilities, and owner's equity amounts. If you want to see a particular line item of financial data on a report, you need an account for that line item.
If you want to budget by a particular line item, you need an account for that budget amount. If you want to report some bit of financial information on your tax returns, you need an account to collect that specific data.
To set up a new account within your Chart of Accounts list, follow these steps:
2

Click the Account button at the bottom of the window.

QuickBooks displays the Account menu. One of the Account menu options is New, which is the command that you use to add a new account.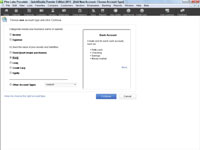 3

Add a new account by choosing the New command from the Account menu.

QuickBooks displays the first Add New Account window.
4

Use the account-type buttons to identify the type of account that you're adding.

QuickBooks supplies the following account types: Income, Expense, Fixed Assets, Bank, Loan, Credit Card, and Equity, as well as (if you mark the Other Account Type and open the Other Accounts Types drop-down list) Accounts Receivable, Other Current Asset, Other Asset, Accounts Payable, Other Current Liability, Long Term Liability, Cost of Goods Sold, Other Income, and Other Expense.

These account groups essentially tell QuickBooks in which area of a financial statement account data gets reported. Note, too, that the first Add New Account window shows examples of the selected account type in the box above the Continue and Cancel command buttons.
6

Use the Account Name box to give your new account a unique name.

The name that you give the account will appear on your financial statements.
7

If the account you're adding is a subaccount underneath a parent account, identify the parent account by selecting the Subaccount Of check box.

After you select the Subaccount Of check box, name the parent account by using the Subaccount Of drop-down list.
8

(Optional) If you're setting a bank account that uses another currency other than your home-country currency, select the bank account currency from the Currency drop-down list.

If you told QuickBooks that you work in multiple currencies — you would have done this during the QuickBooks Interview setup process — QuickBooks wants you to identify those bank accounts, customers, and vendors that use a currency different from your home currency.
9

(Optional) Provide a description for the new account.

You don't need to provide a description. Without a description, QuickBooks can still use the account name on financial statements. If you want a detailed label placed on accounting reports, however, use the Description box for this purpose.
10

Provide other account information.

The Add New Account window includes a BankAcct. No. box that lets you record the bank account number for a particular bank account. Other account types may have similar boxes for storing related account information.

For example, the credit card account type version of the Add New Account window lets you store the card number. If you do have another box or two in which to store account information, go ahead and use that, if necessary, to collect the bits and pieces of data that you want to save.
11

Identify the tax line on which the account information is to be reported by selecting a tax form and tax line from the Tax-Line Mapping drop-down list.

You may not need to assign a particular account to a tax line if that account data isn't reported on the business's tax return. For example, cash account balances aren't reported on a sole proprietor's tax return, so a bank account for a sole proprietor doesn't have any required tax line data.

Cash account balances are recorded on a corporation's tax return, however. So if you're adding a bank account for a corporation, you use the Tax-Line Mapping drop-down list to identify the tax line on which the bank account information gets reported.