How to Set Up Additional Users in QuickBooks 2011
How to Set Up Additional Users in QuickBooks 2011
QuickBooks 2011 allows you to give access to several QuickBooks users. What's more, you can tell QuickBooks to limit certain users to do only certain things. This sounds complicated, but it's really not. The business owner, for example, may have a password that allows her to do anything. But a new accounting clerk might only by allowed to record bills into the system.
If more than one person will be using QuickBooks, you want to set up additional passwords. To do this, follow these steps: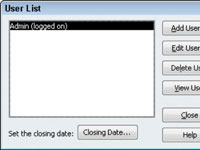 1

Choose Company→Set Up Users and Passwords→Set Up Users.

QuickBooks displays the User List dialog box, which identifies any users for whom QuickBooks access has been set up and who is currently logged on to the system.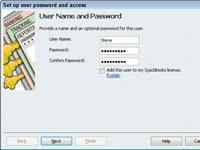 2

Click the Add User button.

QuickBooks displays the first Set Up User Password and Access dialog box.
3

Identify the user and supply a password.

Make sure you remember the password; the person whose account you're creating will need it to get into the system!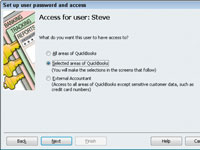 4

Click Next to continue and then indicate whether you want to limit access for the new user.

If you indicate that the new user should have access to all areas of QuickBooks, you're done setting up the user password. You can skip the remaining steps.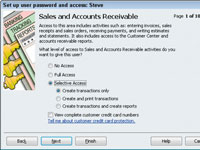 5

Click Next and then describe access to sales and accounts receivable information and tasks.

As a general rule, when it comes to accounting controls, you want to provide the minimal amount of access. If someone doesn't need access to the QuickBooks sales and accounts receivable information for day-to-day duties, you should select the No Access button.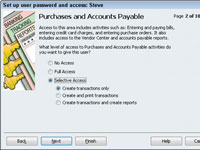 6

Click Next and then describe the purchases and accounts payable rights.

If this account is for someone who is only going to be selling product, you can limit the account to creating transactions only or creating and printing transactions.
7

Click Next and then describe the remaining user rights and access.

Just be thoughtful as you go through and limit the capability of the user. You want users to have the rights necessary to do the job, but you don't want to give them any more rights than they need.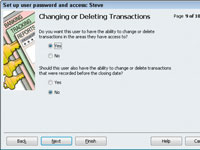 8

Specify whether the user can change or delete transactions.

This is your last set of choices. Deleting transactions can be dangerous, so think hard about limiting users' ability to do so.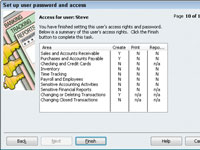 9

Click Next and then review your rights decisions.

QuickBooks displays the final dialog box of the Set Up User Password and Access wizard. It sums up the permissions that you've granted the user. If you see any problems, click the Back button to return to previous screens.
10

Click Finish when you're done.

From this point forward, the new user will be able to use QuickBooks. Make sure that person knows his or her new QuickBooks password.