How to Pay Employees through QuickBooks 2010
How to Pay Employees through QuickBooks 2010
QuickBooks 2010 gives you the ability to pay your employees. After you go through the steps required to set up the QuickBooks payroll processing capability, paying employees is pretty easy.
1

Choose Employees→Pay Employees→Scheduled Payroll.

QuickBooks displays the Employees Center window. To start the scheduled payroll you want to run, click the payroll in the list box and choose the Start Scheduled Payroll button.
2

In the Check Date text box, supply the date that you want to appear on payroll checks.

Identify the date on which the payroll period ends in the Pay Period Ends text box.
3

From the Bank Account drop-down list, select a bank account.

Specify the bank account on which you want to write the paychecks.
4

Make sure that the list of active employees included in the scheduled payroll is correct.

You can click listed employees to select and unselect them.
5

Click Continue.

QuickBooks calculates the payroll checks and payroll deduction amounts for each of the employees selected. To accept the previewed paychecks, click the Create Paychecks button.
6

Click the Print Paychecks or Print Pay Stubs button.

After you click either button, QuickBooks displays the Select Paychecks/Pay Stubs to Print dialog box that lets you either print paychecks or pay stubs for direct deposit.
7

Click the appropriate button and follow the on-screen instructions.

You should confirm the bank account from which you want to write the checks. If you're printing checks, you should also use the First Check Number box to supply the preprinted form number shown on the first payroll check that you'll print. You should also confirm that the employee paychecks listed in the dialog box are those that you want to print.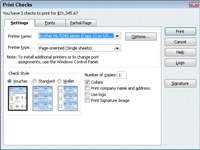 8

After you confirm that the paycheck printing information is correct, click OK

The Print Checks dialog box (the same one you use to print any check) appears. You then print checks in the usual fashion.
9

In the Check Style area, select the radio button for the type of check forms on which you're printing.

If you're using standard or wallet-style checks, you also need to indicate the number of checks.
10

Click the Print button.

You can also print check forms in a batch by choosing File→Print Forms→Checks. QuickBooks displays the Select Checks to Print dialog box. Identify which checks you want to print, click OK, and use the Print Checks dialog box to finish printing your checks.