How to Create a Budget in QuickBooks 2010
How to Create a Budget in QuickBooks 2010
Although QuickBooks 2010 doesn't help you find the best budgeting approach, it does let you create that budget. Setting up a budget in QuickBooks takes only a few steps.
1

Choose Company→Planning and Budgeting→Set Up Budgets.

The Create New Budget window appears.
3

Enter the fiscal year period in the Begin by Specifying the Year and Type for the New Budget text box.

Identify the fiscal year you're budgeting for. You can either type the year into the text box or use the arrow buttons to move the year value up or down.
4

Select the Profit and Loss radio button or the Balance Sheet radio button, depending on what type of budget you want to create.

If you're creating a profit and loss budget, click Next. If you're creating a balance sheet budget, click Finish to complete the budget.

If you selected Profit and Loss, the Additional Profit and Loss Budget Criteria dialog box appears.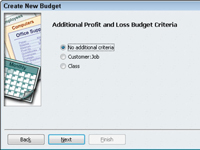 5

Select a radio button and click Next.

You can select the Customer:Job radio button to further extend your budget to include Job details, or select the Class radio button to include classes in your budget. Or simply select the No Additional Criteria radio button.

The Choose How You Want to Create a Budget dialog box appears.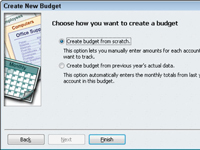 6

Select a radio button to specify whether you want to create the budget from scratch or previous data.

To create a budget from scratch and start with a clean slate, select the Create Budget from Scratch radio button. To create a budget based on your actual data from last year, select the Create Budget from Previous Year's Actual Data radio button.