New Features for Placing Images in Illustrator CC
New Features for Placing Images in Illustrator CC
In Illustrator CC many features that are related to the incorporation of images from other (non-Illustrator) file formats. Before diving in to the new features, it is wise to make sure that you understand how to import, or place, images into Illustrator.
Using File→Place, you can place a file into Illustrator. Illustrator supports more than 20 file formats, the most popular of which are native Photoshop images (PSD), EPS, JPEG, PNG, TIFF, AutoCAD (dxf, dwg), and other Illustrator files (AI). This capability is hardly new, but what is new is the fact that you can now choose to place multiple images at once.
To see how to place multiple images, as well as to learn how to use a few other new features related to placing images in Illustrator CC, follow these steps.
1

In Illustrator CC, choose File→New to create a new blank file.

In the New Document dialog box, simply choose the Basic RGB profile from the Profiles drop-down menu and press OK.
2

Choose File→Place.

The Place dialog box appears.
3

Navigate to the folder that contains your images and then select your images. For this example, simply select the Pictures folder and then hold down the Ctrl (Windows) or cmd (Mac) key and select two or more images to place.

If you hold down the Shift key while selecting one image and then, while still holding down the Shift key, select another image, you will select those two files and all files that are between the two in the Place dialog box.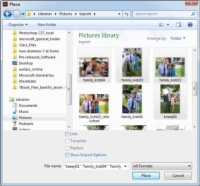 4

Hold down the Shift key to select consecutive images, or the Ctrl (Windows) or cmd (Mac) keys to select nonconsecutive files. Do not click Place just yet!

Note that in your Place dialog box, you have an option to check or uncheck a Link check box. It is important for you to understand what this option means and how the selection affects your file.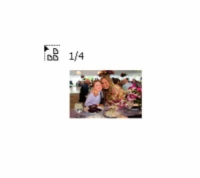 5

Make sure that Link is NOT checked, as you see in this figure, and then press Place. If you see a Profile Mismatch, or Paste Profile warning, simply leave the window at its default settings and press OK.

After pressing Place, a loader cursor appears with an indication of how many images you have placed, and the total to be placed, as you see in this figure. Each time you click the artboard, one of your image files is placed.
6

Click the artboard to place your images.

You can press the Esc key to skip the placement of a file and move on to the next.