How to Remove a LinkedIn Recommendation or Request a Revision
How to Remove a LinkedIn Recommendation or Request a Revision
As relationships change and you receive more LinkedIn recommendation, you may only want particular recommendations on your profile. To remove a recommendation you've received or to request a revision, here's what you do:
1

Hover your mouse over the Profile link from the top navigation bar.

Then choose Edit Profile from the menu that appears.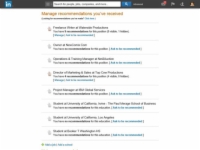 2

Scroll down to the Recommendations section and click the Edit link. When the Your Recommendations header appears on the right side of the screen, click the Manage Visibility link underneath that header.

Doing so takes you to the Manage Recommendations You've Received page.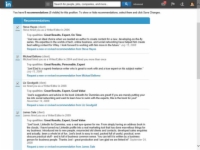 3

Pick the position from your Experience list that the recommendation is tied to.

Click the Manage link below that title to bring up all the recommendations for that position.
4

To remove a recommendation, deselect the Show check box.

Then scroll down and click the Save Changes button to hide your recommendation.
5

To request a new or revised recommendation, click the Request a New or Revised Recommendation From Name link.

This takes you back to the Request Recommendation screen, where you should write a brief note explaining why you're requesting a change.
6

Click Send.

Negotiating the social graces around recommendations might feel a little awkward at first, but with some practice, you'll quickly become comfortable. By both giving and receiving good recommendations, you'll build your public reputation, increase your social capital with your connections, and have a good excuse for renewing some of your relationships with people you haven't contacted recently.