Your Facebook Privacy Settings
Your Facebook Privacy Settings
On Facebook, there are three basic levels of privacy: Friends, Friends of Friends, and Public (Anyone who happens upon your page). You consistently hold the key to how much, or how little, information about yourself you allow others to access on the site.
The personal information you choose to share is apart from the publicly available information — such as your name, profile picture, current city, gender, networks, friend list, and pages — that helps friends find and connect with you.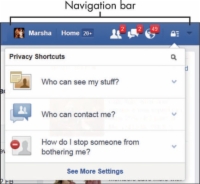 1

To start the process of checking your privacy and security settings, look at the top right of the screen on your Facebook page and on the Navigation bar, locate the word Home.

Depending on your activity on Facebook, the area will be populated much as shown, or you may just see some grayed-out (or blued-out) text.

At this point, Facebook grays out certain controls to indicate that they're not functional or available to you yet. So, if you move your mouse to the far right, the cursor (arrow) will turn into a pointing finger.

If you squint really hard you may (or may not) see a downward-pointing triangle on the far right, and a tiny padlock to the left of it. When you click the padlock, a drop-down menu appears, providing access to your Privacy Shortcuts.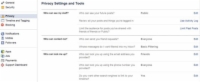 2

At the bottom of the menu, click the words See More Settings.

This brings you to the Privacy Settings and Tools page, which gives you many options. The privacy settings enable you to control who can see your profile information, contact you, or look you up on Facebook. This page is set for default options; you have to change them if you want to tighten up your privacy.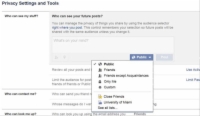 3

Click the word Edit to make any changes.

When you click Edit in this section, a screen appears. In addition to Public, Friends, and Only Me in the audience selector drop-down, you now see some additional options.

Friends except acquaintances. Acquaintances are folks you don't feel the need to be in close touch with; if you put them on this list, their posts will rarely show up in your News Feed. If you select this option, your listed acquaintances will no longer see your posts. They also won't be notified that you've designated them as "acquaintances."

Custom. This is a very advanced privacy setting. You may select individual groups, or, if your default is to be Friends, you can also include anyone who is mentioned (or whose photo is tagged) in the post — and their friends.

Lists. Selecting a list narrows down your audience, but this is easily selectable if you wish to post to only a few people when you post your status update on Facebook.
4

Click the left-side onscreen navigation to visit the different areas of the settings. Facebook sets your Security options appropriately; go and take a look at them and edit if necessary.

There is a little-known — but very valuable — feature in the Security settings called Trusted Contacts.

If you ever forget your password, or can't access your e-mail account due to some sort of computer disaster, special one-time security codes can be sent to your trusted contacts. You can call those contacts to get this code so you can access Facebook again. You must select a minimum of three close (and trusted) friends.
5

Use the Timeline and Tagging settings.

Part of the fun of Facebook is that other members can post comments, pictures, and video. If another member tags you in a posted item, it will also appear on your wall. Here's the area where you decide who can post (and comment) on your wall and who can view photos of you.

In the Manage Tags area, you can indicate that nothing should be posted to your page until you've seen it and approved it in your Timeline Review.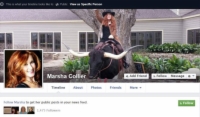 6

Click the View As link next to Who can see things on my timeline and your public profile will appear as shown.

Use this link to view what your results might look like when someone finds you in the results from a search engine.
7

In the Ads and Apps settings, put controls on what Facebook apps and advertisers can share about you when you're using applications and websites on Facebook.

You can also block certain applications from accessing your information and contacting you; such applications include games, causes, and surveys. If you simply don't want to be bothered, you can choose to ignore application invites from specific friends.
8

Manage your notifications.

If you'd like Facebook to notify you when people mention you or when close friends post, you can edit these settings here.
9

Click the Edit Your Lists link under Block Lists.

If there are some folks you'd really rather not interact with on Facebook, this setting allows you to block them from access. Simply type in each name and/or e-mail address that you want to block, and then click the Block this User button. Once you've blocked someone, that person can no longer see any of your Facebook activity.