Facebook is one of the dominant social networking sites in the world. Facebook lets you share photos, videos, links, status updates, and much more with your friends. As you discover how this social networking site works, use this handy reference to help you find people on Facebook, communicate with friends, and figure out what to do as soon as you log in.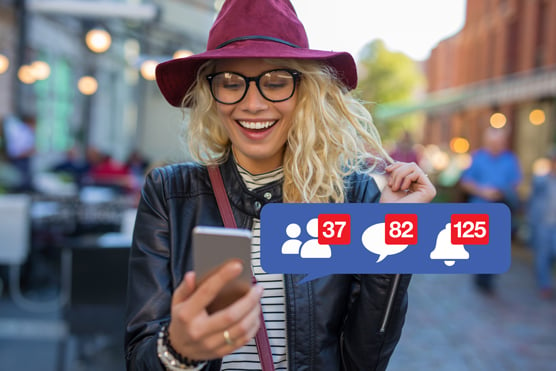 © Kaspars Grinvalds / Shutterstock.com
Top 5 things to check when you log in to Facebook
Facebook is all about staying in touch with friends. Right after you log into Facebook, check out which of your friends has a birthday coming up, the requests you've received, and what your friends are up to.
| | | |
| --- | --- | --- |
| Check Your | What It Is | How to Do It |
| News Feed | A continuous stream of updates about your friends' activities on and off Facebook | Look at the Home page—News Feed flows down the wide center column with stories and posts from your friends. |
| Upcoming birthdays and events | A list of upcoming events and friends' birthdays occurring today | Check the top of the right side of the Home page. For birthdays, only the names of those friends who have listed their birthdays appear. |
| Inbox | Messages from friends or other people on Facebook | Click the Messages icon at the top of any Facebook page to see recent messages between you and friends. |
| Friend requests | People asking to connect with you | Click Friends in the left sidebar to open the Friends page, where you can view all your friend requests. Click Confirm or Delete to respond to pending requests. |
| Notifications | A list of actions that have been taken on your timeline or your posts: things like comments, replies to comments, photo tags, likes, and so on | Click the bell icon in the top bar of any Facebook page to open your notifications. The list displays all recent notifications; click one to go to the content or to the part of Facebook that the notification refers to. |
How to find people you know on Facebook
A popular way to use Facebook is to find people from your past or get to know friends of friends. To find people you know on Facebook and build your friends list, check out this table, which outlines a few easy ways to do just that.
| | |
| --- | --- |
| What to Do | How to Do It |
| Search for people by name | When you meet new friends in the real world, look them up on Facebook. Type their name in the search box in the top. Select them from the results based on their picture, location, or other details to make sure you have the right friends. Click Add Friend, or the icon that looks like a person with a plus sign. |
| Join some groups | Search for groups in your neighborhood, at the schools you attended, or those involved in a hobby or group you're interested in. After you join, you can communicate with other members and add any you like as friends. |
| Check out people you may know | Based on which friends you already have, Facebook has ideas about the people you may know. Click Friends in the left sidebar to get to the Friends page. In the People You May Know section on the left, click people you think you may know to learn more about them. |
| Check out your friends' friends | Go to a friend's timeline and click the Friends tab under the friend's cover photo. Scroll through that person's friends and click to request any ones you know to be your friend as well. |
| Keep an eye on your News Feed | You may receive News Feed stories about friends and some of their friends. You probably know many of the same people as your friends, so keep your eyes peeled for these stories. When you see someone you know, you can add them as a friend. |
Celebrate your friend's birthday on Facebook
Celebrating birthdays on Facebook is a great way to show your friends you care about them. Facebook birthday celebrations are fun, inexpensive, and easy to do. Here's how.
| | | |
| --- | --- | --- |
| What to Do | What It Is | How to Do It |
| Write on a friend's timeline | This public forum usually fills up with well-wishes on a person's birthday. | Go to a friend's timeline, and enter your message in the share box, with is below their cover photo on the ride side of the page. |
| Send a friend a message with a sticker | A sticker is the Facebook equivalent of a real-world sticky piece of flair. You can find stickers for all sorts of images, including birthday-related ones. | Open a message window and enter your friend's name. At the bottom of the window, click the smiley face icon to open the Browse Stickers window. Select the sticker you want and it will be sent to your friend as a message. |
| Tag a friend in a post | You can add tags to posts to give a shout-out to the people you mention. | Go to your timeline and start typing a post in the share box. Then enter the @ symbol, and begin typing your friend's name. Select your friend's name from the list that appears. When you post, the friend will be notified. |
| Donate to a fundraiser | Lots of people "donate" their birthdays to raise awareness for a cause they care about. People can make donations to non-profits or to individuals through Facebook's Fundraiser feature. | When you see in your News Feed that a friend has posted a fundraiser for his or her birthday, click the blue Donate button, enter the amount you want to donate and payment information, and click to complete the payment. |
| Video chat | If both you and your friend have webcams (or smartphones) you can have a call where you can see each other's cute faces. | Open a message window with your friend. Click the video icon in the top bar of the window (next to your friend's name) to start a video call. |
How to communicate with your friends on Facebook
Meet up with friends on Facebook! Communicate with your friends on Facebook in a whole host of ways: posting, writing on their timelines, sending messages, and more.
| | | |
| --- | --- | --- |
| What to Do | What It Is | How to Get There |
| Send a message | Similar to an email, but short, sweet, and no need to remember any email addresses. | Go to your friend's timeline. Click the Message button underneath your friend's cover photo. |
| Create a post | If you have something you think might interest friends, but you're not sure who or how much, you can create a post. Your friends may read it in their News Feed or see it when they visit your timeline. | Click in the share box at the top of News Feed or your timeline. Write whatever you think might interest some of your friends. Wait for the comments and messages to trickle back. |
| Write on a friend's timeline. | To communicate with friends in public, tease them, or congratulate them for something their friends might want to hear about, write on their timelines. | Go to the timeline of any friend and write in the share box below the cover photo. Posts go into mutual friends' News Feeds. |
| Share a photo on the go | When you use the Facebook Mobile app to share the photos you take, all your Facebook friends will be able to see them. | From the Facebook app for iPhone or Android, tap the Photo button to open your phone's camera roll. Select photos you want to share with friends. Then tap Post. |
| Tag friends in a status update | If you're posting something that you know might interest certain people, you can tag them so they'll be notified about the post. | Click in the share box on your timeline or Home page and type your post. Type @ and start typing your friend's name, and select the person's name from the list that Facebook generates as you type. |
About This Article
This article is from the book:
This article can be found in the category: