Skipping the Find Your Friends Page during Facebook Setup
Skipping the Find Your Friends Page during Facebook Setup
If you're new to Facebook and are setting up your page, Facebook will take you to a Find Your Friends page — not unlike the one shown.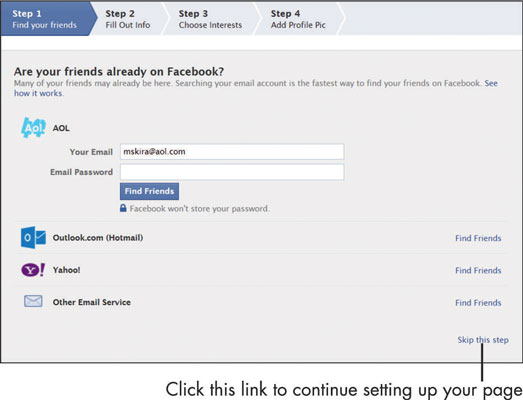 Facebook prompts you to type in your e-mail address and your e-mail account password. If you do this, it links your e-mail account and contacts to Facebook, and allows you to send Facebook friend invitations en masse. You could do so, but you might want to skip this step (by clicking Skip This Step in the right corner of the screen) for a few important reasons:
Completed profile. The invitations go out the moment you click to invite. It will look so much better after you've added your photo and other profile information.

Find them later. After you've set up everything, it's very easy to find people on Facebook.

Privacy. You may not want to expose your contacts to the Facebook linking.
Click Skip for now, so that you can set up your Facebook page completely first — then find people you know and add them as friends on Facebook at your leisure. That way, when they receive your friend invitation, they can see your already completed, nicely laid-out new Profile page. Having your profile completed shows that you know what you're doing and are ready to roll! Perception is (almost) everything online.
Okay, you may think you have skipped finding friends, but Facebook won't give up. A pop-up window appears saying: "People who complete this step usually find up to 20 friends, and Facebook is a lot more fun with friends. Are you sure you want to skip this step?" Yes, please. Click Skip and move along with the sign-up process.