Share Your Photos on Instagram
Share Your Photos on Instagram
Instagram is designed for instantly sharing photos you take with your smartphone or tablet. You can find many services for sharing your personal photos, but the most popular (especially for mobile uploads) is Instagram. You can also take short, 15-second videos and post them to your Instagram page.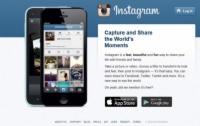 1

Download the app from the App Store or Google Play and join Instagram before you have a photo to post.

Your first upload will move more quickly.
2

On the Instagram home page, click the box that is appropriate to your mobile operating system.

If you have an iPhone, click Download on the App Store or Get it on Google Play if your mobile device runs on Android.

After you've signed up and become a member of Instagram, you can sign in to the web interface to view, Like, and comment on your friends' photos. You can only post photos from a mobile device.
3

Once the application is installed, tap the Instagram icon to open it.

Here you have the opportunity to register, so create a username (why not use your own name so your friends can easily find your account?), select a password, and fill in a short sentence that identifies your account with a bio. Tap Done and your account page appears.
4

Next, give Instagram permission to integrate with your Twitter and/or Facebook accounts.

Tap the three vertical dots (if you're using an Android device) or the cog (if you're using an iPhone) to get to your account options. In the Preferences, Sharing Settings, click each of your social media accounts and follow the prompts to connect them.
5

Upload from your mobile device.

If you took a photo using your smartphone's camera, tap the camera icon at the bottom of the page, and then tap the icon that matches your photo gallery; from there, select an image by tapping it.
6

Alternatively, take a photo through the Instagram app.

Tap the camera icon, and select the camera (to take a picture) or the video camera to take a 15-second video.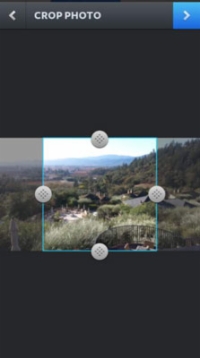 7

Crop the image to the standard square format used in Instagram.

Note that a square has been imposed over your image. You can move the square to position it on the image, or zoom in and select a portion of the image by pinching the dots that surround the selection. When your image is just right, tap the arrow at the top right of your screen to proceed.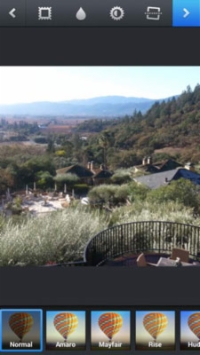 8

Tap on the scrolling selections at the bottom of your screen to see how your picture looks with each filter.

If you don't want to add artistic license to your image, just leave the selection on the default Normal. When you're happy with the effect, tap the arrow in the upper right of your screen to bring up the posting page.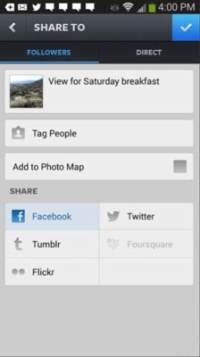 9

Type your comment in the text box and select the social network (or networks) where you would like to share the photo.

You can share your photo to your Instagram page and other social networks if you desire.

10

Post to Twitter.

When you post to Twitter, the picture posts with your comment and shortened link that directs people to your Instagram web page.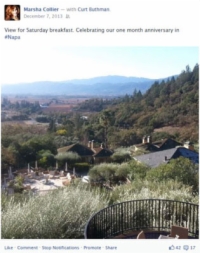 11

Post to Facebook.

Posting to Facebook is a far more satisfying event. Since Facebook owns Instagram, your full image is posted to your Timeline, along with your comment.

Note that images shared from Instagram to Facebook are only visible to your Facebook friends, and not to the general public. If you want the picture to be publicly viewable, you may go to Facebook and change the image's privacy status.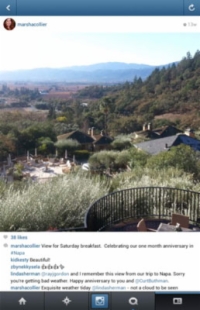 12

Check the Instagram main feed to see the pictures your friends have posted.

You can Like their images by tapping the heart icon, or by tapping the cartoon text bubble and typing in a comment.

Before you click the blue arrow to upload your image, decide whether you want the picture to immediately appear as a tweet or Facebook post with your text. If you don't — perhaps because you want to share it everywhere, just don't click the boxes to share on other sites. You can always go back to one of your Instagram images and share at any time.