How to Use the Facebook Friend Finder
How to Use the Facebook Friend Finder
The Find Your Friends step is important to enjoying Facebook. Without friends, Facebook can feel a little bit like going to an amusement park alone. Sure, the rides were fun, and the food was greasy, but no one was there to appreciate it with you.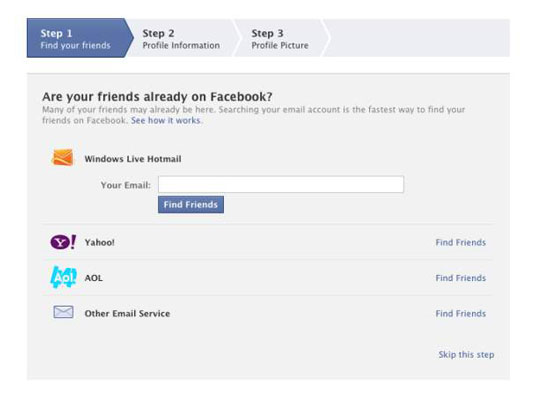 You have many ways to find friends on Facebook. The method Facebook is highlighting in this step is the Friend Finder.
The Friend Finder works by allowing Facebook access to your e-mail account. Facebook then combs through your e-mail contacts and matches the e-mails it finds with e-mails attached to the Facebook accounts of the people you e-mail.
So if Joe Smith, your friend, e-mailed you from jsmith@email.com and also had a Facebook account he created with that e-mail address, the Friend Finder presents you with Joe's name and profile picture and asks if you want to be friends on Facebook.
To use the Friend Finder, follow these steps:
Select the e-mail provider you're using.

This may be Windows Live, Gmail, Yahoo!, or another e-mail client. Facebook automatically selects a provider based on the e-mail you used to register.

Depending on what e-mail service you use, importing your contacts and looking for friends may entail a few extra steps. Facebook provides instructions for these steps. If you follow those steps, come back here and skip to Step 4 on this list.

Enter your e-mail address and e-mail password.

Remember to enter your e-mail password, not the password you just created for Facebook.

Click Find Friends.

Behind the scenes, Facebook searches your contact list and presents you with the people in your e-mail Contacts list who are already on Facebook. By default, all these people are selected to be your friends.

Look through the list and choose the people you want to be friends with on Facebook.

A good rule is to look for people you're friends with or related to in real life. You can deselect the people you don't want to add by clicking their faces or the check boxes.

This isn't your only opportunity to use the Friend Finder. If you aren't sure about adding a lot of people right away, that's okay.

Click Add as Friends.

This sends Friend Requests to all the people you selected in Step 4. On Facebook, all friendships have to be agreed to by both people. A request to your friend needs to be approved by her before you are officially Facebook friends.

After you add friends, Facebook looks at the e-mail addresses it didn't find matches for and asks you whether you want to invite those people to join Facebook.

Select people you want to invite to join Facebook.

Much like selecting friends to add, you can select and deselect friends' e-mail addresses by selecting the check box next to their e-mails.

If you don't want to invite anyone to join Facebook just yet, look on the bottom right of the screen for a Skip link. It's right next to the Send Invites button.

Click Send Invites to send out invitations to your friends via e-mail.

They'll receive e-mails from Facebook letting them know you invited them to join.
The Friend Finder is very useful when you're just getting started on Facebook because it allows you to find a whole bunch of friends all at once. If you had to look for each of your friends by name, it could take a while. Friend Finder allows you to speed up that process.