How to Use Facebook Video Chat
How to Use Facebook Video Chat
Video Chat is a fairly new addition to Facebook, which is why you might or might not see the video camera icon at the top of each Chat window. Facebook's Video Chat is actually powered by Skype, an Internet telephone service. Facebook offers video chat because they know that nothing is better than a face-to-face conversation.
If you see the video icon, you can initiate Video Chat with your friends: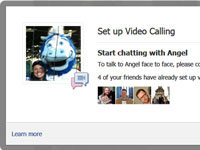 2

Click the video icon to begin Video Chat.

If you've already set up video calling, this begins the call. A pop-up window appears, letting you know that Facebook is calling your friend.

If you haven't yet used video calling, a pop-up window appears, asking you if you want to set up video calling.
3

Click Set Up.

This initiates a file download. Each web browser and operating system may have slightly different instructions. In general, you need to save the file to your hard drive and run it to complete the set-up.

After set-up is complete, a new pop-up window appears telling you that Facebook is calling your friend.
4

Wait for your friend to pick up.

When he does, video of him appears in a new window above Facebook.
5

To end the call, close the window.

Video Chat assumes both people have webcams either built in or installed in their computers. If you don't have a webcam, Video Chat isn't really for you