How to Upload Your Facebook Profile Photo
How to Upload Your Facebook Profile Photo
One of the most important parts of setting up your Facebook page is picking the right image for your profile photo. Do you have a picture of yourself on your computer that you'd like to share? If so, follow the simple steps that start here. (If you don't have a photo available and your computer — laptop or phone — has a camera, skip down to Step 6 for those instructions.)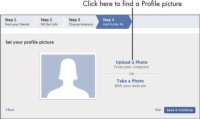 1

Click the Upload a Photo link.

Step 4 of the Facebook sign-up process says it's time to either Upload a Photo or Take a Photo to personalize your profile and home pages. Many people are camera-shy and don't put up a photo for their Facebook friends to see. If that's your inclination, remember that not posting your picture will make your profile page pretty boring. So why not be a little daring and put up your picture?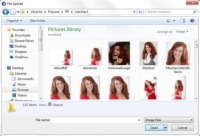 2

Click the Browse button to start your picture selection.

The File Upload window opens and a directory of your computer's contents will appear. Go to the folder where you store your photos.
3

Select an image that you'd like to display on your Facebook profile by clicking it.

Be sure your selected photo is wider than 180 pixels in size. (If you don't know what that means, or can't tell how big your photo is, don't worry; Facebook will reject the photo if it's too small or too large.) The name of the photo you chose should appear at the bottom of the window in the File Name text box.

If you question whether a photo is too large, its file size (in kilobytes, or KB) should be next to the filename in your folder. If it's too big, you can preview the photo in a photo-editing program (for example, Windows Live Photo Gallery) and crop it to a smaller size.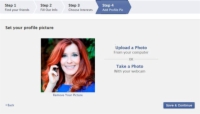 4

Click Open.

The picture you chose begins to make its merry way through the web to Facebook automatically. (Nice, huh?)
5

To go with a different photograph, simply move your mouse over the top of the photo until you see the words RemoveYour Picture.

If you don't like the photo you selected, you can always change it later in the Edit My Profile area. (You can find the link to this area under your picture on your Profile page.)
6

If you don't already have any photos you like, you can take a picture from your computer web camera (if you have one).

Click Take a Photo with Your Webcam on the Set Your Profile Picture window.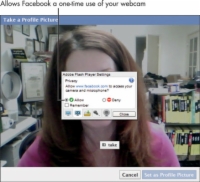 7

A window appears asking your permission for Facebook to access your camera and microphone.

Click the option button next to Allow.
8

If your webcam is pointing in the right direction, you will now see your image (as you sit at your computer) in the Take a Profile Picture window.

If you want your computer to remember that you grant access to your camera at any time to Facebook, you must click the check box next to Remember. If you don't want to grant blanket access, that's okay, too. So click Close, and there you are, in all your glory.
9

You may now pose for your picture.

When you're satisfied with how your picture appears, click the word Take (next to the camera icon) to "take" the picture.
10

Click the Set as Profile Picture button and your photo will upload to your Facebook profile.

Remember, you can always swap out this picture later.