How to Upload a Photo to Facebook
How to Upload a Photo to Facebook
Facebook is a great place to keep your photos and videos because it's the place where most of your friends will be able to see them. If you have a few photos you want to quickly share, follow these steps to get them out to your friends:
2

Click Upload Photos/Video.

A window appears allowing you to browse your computer's hard drive and select the photo you want.
3

Click the photo you want to share to select it.

You can select more than one photo if you want.
4

Click Open or Choose (the wording may depend on your browser and operating system).

This brings you back to Facebook. A thumbnail of that photo appears inside the Share box.

Sometimes Facebook may be a little slow to add your photo. Blue progress bars may appear instead of thumbnails. You won't be able to post your photo until the photo has been added.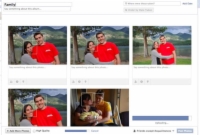 5

Click in the Share box (where you see Say Something about This Photo) and type any explanation you think is necessary.

Add tags, location info, and change the privacy of those photos from the options at the bottom of the Share box.

If you've never changed your Privacy settings, by default, everyone on Facebook can see this photo if she navigates to your Timeline. Of course, you can always choose a custom group of people who can and cannot see the photo.
6

Click Post Photos.

This officially posts the photo to Facebook. People will be able to see the photos on your Timeline and in their News Feeds (provided they're allowed by your Privacy settings to see the photo). By default, this photo is added to an album called Timeline Photos, which is basically a collection of all the photos you've ever added individually.

You can also drag and drop photo files from your desktop straight into the Share box just like moving files around on your computer. Once you have dragged a photo into the Share box, you can add a comment, location, tags, and change privacy like normal.