How to Set Up Your Google Profile
How to Set Up Your Google Profile
You can't have a blog without a profile. You lose a lot of credibility if people can't put a face to the blog. Google takes care of that by assigning you a Google+ Profile. Think of this profile as an online calling card: One glance and people should know about you easily.
Readers can't always relate to someone's writing without an idea of who they're reading. The profile can be as thorough as you want it to be or it can just skim the surface. Your choice.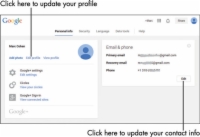 1

To set up your Google+ profile (which will link your blog), sign in at Blogger to your Google account.

You arrive at your Personal Info page. Google doesn't want you to go a step further until you get this done.
2

If you've signed up for Gmail, your phone number and e-mail address will already be filled. If it isn't, click Edit.

Contact information (alternate e-mail address and phone number) is an important feature if something should happen to your Google account. This information is not public; it's used for identification purposes.
3

Add your photo.

Adding a photo gives your profile a face (get it?) for the viewer to identify with. There may be more than one person with your name — but there's only one with your face. Click Add photo to get that done. You can either drag a photo from your computer to this window, or click Select a photo from your computer to access your photo archives on your computer.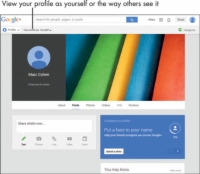 4

Edit profile.

Once your picture is online, it's time to start filling in the details of your profile. Click Edit profile and you'll see a page like the one shown. Note at the top there is a toggle view, where you can see the page as yourself, or as one of your alternate online identities.
5

Go from section to section and fill in whatever information suits your fancy by clicking Edit.

After you've filled out the information you wish to share, click Save.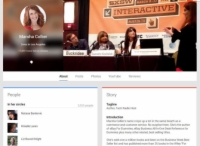 6

There's no need to fill it all out at one sitting.

The Goggle+ profile can be very definitive, and a lot of fun to fill out. (There's even an area for Bragging Rights). When you're done, click the option to see the public view.

Friending (adding people into a Circle) is just as fun as on Facebook, except that Google+ is a bit more businesslike.