How to Respond to a Facebook Poll or Question
How to Respond to a Facebook Poll or Question
If you see a question on Facebook that piques your interest, either because you know the answer or you want to know the answer, click it to read the entire thing. This generates a Question box.


The Question box has several parts and they offer a few different options for what you can do next:
Question: The blue header of the question box shows the original Question asked.

X: Click the little white X next to the Question title to close this window.

Asked By: This section shows who asked the Question. Additionally, in the gray header, you can see how many followers the Question has. You can Share or Report the Question here as well.

Ask Friends: The Ask Friends button allows you to redirect a Question to your friends who may know the answer.

Follow: Following or subscribing to a Question is a way of asking to be notified of future answers to this Question. When you ask a Question, you automatically follow it. Click the Follow button to begin following, and if you find you are getting too many notifications, you can come back to this screen and click Unfollow.

Posts: Posts are the actual answers to basic questions. There are actually two views of the Posts section. You can see just friends, or you can see the answers from Others on Facebook. In this example, just one answer is from a friend, and 15 answers are from others.
Question boxes for poll questions look fairly similar, although above the information about who asked the Questions are the actual poll options. The small Profile pictures to the right of each option are your friends who have chosen that answer. Hover over the blue ellipsis to the right of each answer to see how many people have voted. You can see an example of a poll Question box.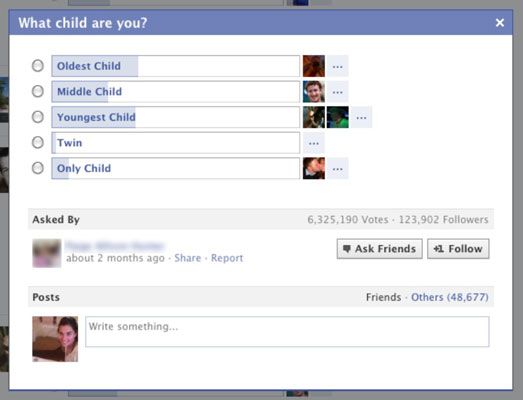 To add an answer to a basic Question, you only need to follow three steps:
Click into the Write Something box in the Posts section of the Question box.

Type your answer.

Click Share.

The original asker and any followers of the question are notified that a new answer is available.
To add an answer to a poll Question, simply click the option you would like to vote for. Some Questions may allow you to vote for more than one option, in which case, check off all the options you want.