How to Post Your Blog with Photos
How to Post Your Blog with Photos
Having your own blog gives you an opportunity to write about things that interest you and add your opinions to the social buzz — and someone will probably read what you write! Posting to your blog is as easy as using a word processor. The New Post page on Blogger has everything you need.
2

Write your post.

Compose your blog post in the text area. Use the toolbar to change the formatting of your text if you wish. Use bold, italic, colors, or numbering — just as in a word processing program.

Don't use a word-processing program if you pre-write your post. Although spell checking is handy, when it comes time to copy and paste what you've written, some of the characters won't transfer properly. If you want to pre-write your post, use a plain "text editor" program like Notepad.

If you're writing your post in Blogger, don't worry about having to hurry. Take your time. Blogger autosaves your work every few minutes.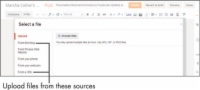 4

You're brought to another page where you can upload a photo from a number of sources.

Upload: This choice lets you select a photo saved to your computer. Click the Choose Files button to browse your computer's memory for the photo you want.

From this blog: After you've added a few posts and photos, you may find yourself wanting to reuse some photos you previously posted to the blog. This option offers a quick way to repost older images.

From Picasa web albums: Picasa is Google's service for storing and sharing photos. It's tied to the Google photo-editing software, also called Picasa, that you can download for free. After you've established a Google account, you can add a Picasa album to your mix.

From your phone: Mobile phones are replacing cameras as the most popular device for shooting quick photos. This option lets you grab a photo from your phone and add it to a blog post.

From your webcam: Can you think of a better way to personalize a blog post than by adding a photo of you creating the post? If your computer is equipped with a webcam, a device that lets you shoot images with your computer, then you can shoot and add one automatically.

From a URL: When inserting a photo, you can type in the web address (URL) for an image elsewhere on the web. Before you "liberate" a photo from another website, be sure it's not a copyrighted image.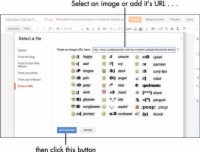 5

The photos you've added appear in the Select a File box as they're uploaded to Google.

Select the image you want to add to your blog post and click the Add Selected button.

You can add multiple images with a single click. Simply select the images you want to add to the post and click the Add Selected button when you have the set you want.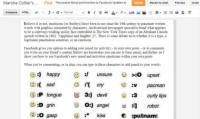 6

Blogger drops your image into your post wherever you left your cursor after you were finished with the text.

If you don't like where it's sitting or the size of the image, you can change it.
7

To move your image, hover your cursor over the image until it turns into a cross-arrow. Left-click and hold the button.

You can now move the image around in the post. Release the button when the image lands where you want it to live in the post.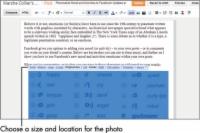 8

If you want to resize your image or add a caption, click the image to bring up an Options menu.

You have the option to resize the image automatically to Small, Medium, Large, X-Large, or its original size. Click through your options to see which fits best in the post. The menu also gives you options to move the image to a specific place in the post or add a caption.
9

After you've added all the text and images you want to your post, click Preview to see how the finished product will appear on your blog.

A new window pops up to show you what the world will see when its denizens visit your blog.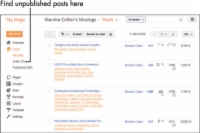 10

If your post is ready and you want to put it live on the web, click Publish.

If you'd rather give it extra thought, just click Save and it goes into your posting area. Click Close after you've saved if you want to shut your post down before you revisit. When you're ready to finish, you can find the post on your Dashboard in the Drafts link under Posts. You can add to or edit the post at any time.