How to Leave a Review on Yelp
How to Leave a Review on Yelp
If you want to leave a review for a business on Yelp, you must register first. The registration form is quite simple, and you are asked to type your name, e-mail address, and select a password.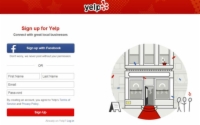 1

On any Yelp page, click the Sign up link (or on the home page, Create Your Free Account).

Alternatively, the figure shows that you can also create an account on Yelp by signing in with your Facebook account.

Next you arrive at a page where Yelp wants to find out more about you, such as your gender, and birth date, but you needn't fill it in; that information is optional. Yelp would also like to help you to find those of your e-mail contacts who are registered members of the site.

You're asked to input your e-mail login and password. Then Yelp logs in to your online contact list to see whether anyone on your list matches with current Yelp members. If you squint really hard, you can see an inconspicuous Skip This Step link next to the Find Friends button. Why not click it?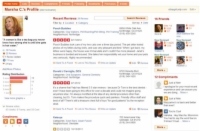 2

Click Please Complete Your Yelp Registration on the Welcome page to get to a page where you assign yourself a nickname for the site.

Or you may click the Go to My Profile button where you also can fill in your nickname, as well as upload your photo and personalize your profile — as little or as much as you wish.

In the meantime, Yelp sends you an e-mail to confirm your e-mail address. It will have a link in it, when you click it; you end up back on Yelp where you confirm that your e-mail is correct.
3

Every page on Yelp has a navigation bar with links to various areas on the site.

Click any of those links to get to your desired area.

4

To post a review, find the Write a Review link and click it.

You land on a search page. Type the name of the business and city in the Business Name and Near text boxes, and click the Search Businesses button.
5

Scroll through the group of loosely related listings to find the exact business you're searching for.

When you find the matching business name (and location) click the Write a Review link next to the address on the page.
6

On the review form, put your mouse pointer over the stars to select the star ranking you wish to give (one to five), and click your selection.

On the Complete Your Review page, you see the review form on the left — and other folks' reviews of the business on the right.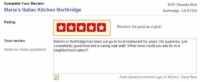 7

Type your review in the text box.

Scroll down the page and optionally add an evaluation of whether you feel the photos of the business give a good representation, and click from one to four dollar signs to give others an idea of the pricing of the product or services you've received.
8

When you're done, click Post.

Your review appears on Yelp for all to see — and on your About Me Profile page. From your profile, you can update a review at any time.