How to Check in to Facebook Places
How to Check in to Facebook Places
These days, most mobile devices have some functionality built in. This means you, via your phone, can easily locate yourself on a map. Facebook Places is a way for you to connect to your friends who are physically nearby.
Facebook Places works like this: When you go someplace using your Facebook app or Facebook Mobile, you choose from a list of possible locations. These might be restaurants or parks or buildings. Facebook generates this list based on the location it's getting from your phone. When you select a location, you check in to that location. Facebook won't share your location unless you check in.
You can tag friends in your check-ins or add photos or a few words about what's going on. After you check in, your friends can see where you are in their News Feeds. If they're out and about and also using Facebook on their phones, they can see if they are near you by tapping Nearby from the Facebook menu.
To check in from your iPhone, follow these steps:
1

Tap Check In at the top of News Feed.

This brings up a list of nearby places. These places may range from official businesses to people's homes (Carolyn and Eric's Place) to shared spaces (Dolores Park, San Francisco Airport Terminal 2).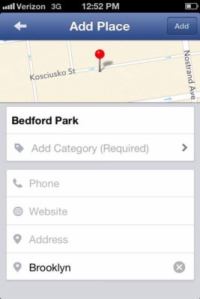 2

Select the name of the place you'd like to check in to.

If you don't find what you're looking for, type the name of the place you want to check in to in the search bar above the list of suggested locations. If it's not found, Facebook brings you to the Add a Place page and you can tap the Add button to add the place to the list.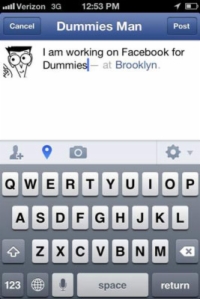 3

Type a comment into the Check In box.

The Check In screen appears. Check-ins with comments tend to feel a lot like status updates, with a little additional information.
4

Tap the person icon to tag friends.

Your list of friends appears. Tap the ones you want to tag.

Some people are very private about their location information, so it's considered appropriate to ask people before you tag them.
5

Tap Done when you're done tagging.

Tap the Privacy menu to choose who can see this post. You can choose from the usual options (Public, Friends, Friends Except Acquaintances, Only Me) as well as choose from any Friend Lists you've created.
6

Tap Post in the upper-right corner.

This officially marks you as "here." The check-in is added to your Timeline and your friends' News Feeds, where they can comment or like your check-in, or maybe even pop by to say hi.