How to Add a Photo to a Facebook Note
How to Add a Photo to a Facebook Note
If you want to add a little pizzazz to your Facebook Note, you can add a photo to illustrate your topic for your Facebook friends. If you choose to include photos, it requires you to add HTML tags to your Note.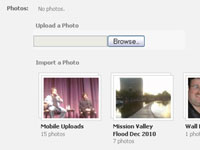 1

On the Write a Note page, click the Add a Photo link.

This expands the photo selector. You can upload photos from your computer's hard drive as well as import photos from the albums you have already added to Facebook.
2

To choose a photo from your hard drive, click Choose File or the Browse button to find the photos you want.

You can add only one photo at a time; therefore, repeat as necessary until you upload all the photos that you want. Each photo is given an HTML tag, usually numbered from <Photo 1> to <Photo X>.
3

To choose a photo from the previous albums, click the album you want and then click the photo from that album that you want.

This process adds the same HTML tag, but saves you the step of uploading the photo.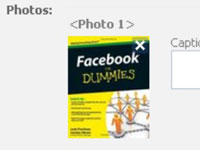 4

For each photo, add a caption and select how you want the photo to appear.

The photo can cover the full width of the Note, or it can be resized and aligned to the left, right, or center.

The photo tags are put (by default) at the bottom of your Note.
5

Move the tags to where you want the photos to appear.

The photo tags are put (by default) at the bottom of your Note.
6

Use the Preview button to see how your Note looks.

To change the look, click Edit, make your changes, and click Publish.