How to Add a Description to a Facebook Photo
How to Add a Description to a Facebook Photo
Using tags lets your Facebook friends know who is in the photos you post in your Facebook albums, but you can also add a description or caption underneath a photo to tell everyone more about it.
Just like you can add a description to the album as a whole, you can add descriptions or captions to individual photos: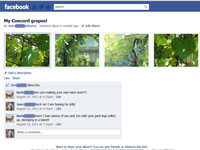 1

From the album view, click the photo you want to caption.

This opens the photo viewer. Look underneath the top section for your name and Profile picture. There are several links there too: Like, Comment, Share, and Edit.
3

Enter your caption into the text box.

Your caption can be something useful, such as where the photo was taken, or something fun, such as a joke you share with friends and family.
4

(Optional) Add any tags you want about who you were with when the photo was taken (they don't necessarily have to be in the photo).

These tags appear in the album caption section.
5

(Optional) Add location information about where this photo was taken.

Facebook tries to auto-complete your location information as you type.
6

When you're finished, click Save.

After you add your caption, the Add a Description link is replaced by the actual description. Click the pencil icon to change the description.