Find Restaurants, Shopping, and Nightlife on Yelp!
Find Restaurants, Shopping, and Nightlife on Yelp!
Founded in 2004 by software engineers (formerly from PayPal), Yelp now receives approximately 40 million unique visitors per month from seekers of local business reviews. You do not need to register on the site to search reviews or get the special deals and coupons offered by the businesses on the site.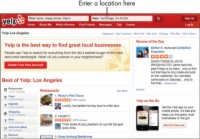 1

Go to Yelp in your web browser.

You arrive at a Yelp home page for your closest metro area.

Most people got their cities pre-filled-in on the home screen. A few people in Seattle, New Jersey, and Iowa came up with San Francisco on their home pages, so the little program that fills in the city is clearly not an exact science yet.

If your city (or the city you wish to search in) isn't listed, just type your ZIP code (or city and state) in the box below Near. You'll be brought to the hub for that city.
2

If you want to browse businesses in the area, just click one of the links on the left to refine by the type of business.

To refine your search further (by ratings, location, features, or prices), click the See More link arrow and you'll be taken to a page where you can burrow down further. Clicking a category (for example, restaurants) brings a dizzying array of results. In this case, narrowing down the results to a type of food gives you a more manageable list.

Yelp sells advertising to local businesses, and advertisers on Yelp get preferred placement in the search results and the extra listing features. If you see top listing results that are highlighted, this means those listed businesses are paid advertisers.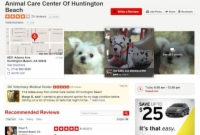 3

To search directly for a type of business, type the keyword in the search box, followed by the name of the city you want to search.

The figure shows the business page and a basic one- to five-star review.