Adding Your Facebook App to a Business Page
Adding Your Facebook App to a Business Page
When you create a Facebook app, you want to make it available to as many people as possible. To do that, add your app to a tab on your Facebook business page. Tabs appear below your cover photo, so visitors to your page can find them easily. To create a tab on one of your business pages, do the following: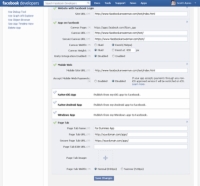 1

While filling out the Basic settings form when installing your app in Facebook, select the Page Tab check box to open that section of the form.
2

Fill in the Page Tab Name (the name of your app as you want it to appear on the page), the Page Tab URL, and the Secure Page Tab URL.

These last two should match what you typed for the Canvas URL and Secure Canvas URL in the App on Facebook section of the form.
4

While logged into Facebook, go to the following URL (replace

your_app_id

with the Facebook ID for your app and

your_canvas_url

with the URL for your app on your web server:

http://www.facebook.com/dialog/pagetab?app_id=your_app_id&next=your_canvas_url

The URL takes you to the Add Page Tab dialog box.