2 Ways to Find a Friend with Facebook Search
2 Ways to Find a Friend with Facebook Search
Start your search for friends by thinking of a small group of your friends and write down a list. Then sign in to your Facebook account; you'll land on your Home page. From here, you have two ways of finding people: by using the Search box or looking at the blue bar at the top of the page for the Friend Requests (two people) icon.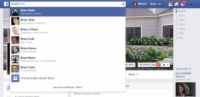 1

Type one of your friend's names in the Search box.

Just as when you're searching for anything on Facebook, a drop-down list appears — this one with semi-matching names.

If you're not sure how to spell your friend's name, just type in as many characters of it as you think may be right. Facebook will pick up the slack. Alternatively, you can type in your friend's last known e-mail address, but people change e-mail addresses so often these days, keep in mind that it may not be valid anymore.
2

If your friend is not on the Suggested list, click the See More Results link.

You'll then see a page (or many pages) with results that match what you've typed. You should be able to find your friend if he or she is a member of Facebook.

The regular Facebook search box does not always show every John Doe that is on Facebook; even when you click More Results.
3

Click the Friends Request (two people) icon.

A drop-down menu appears, showing any friend requests you may have (to the right of the words Friend Requests you will see a link to Find Friends).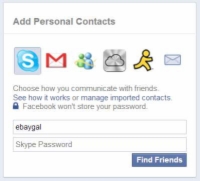 4

Click there and you come to a page with a tool on the right that allows you to Add Personal Contacts as Friends.

Select any of the services listed and type in your ID and password. Facebook imports your contacts automatically.

This Facebook feature that imports contacts is called Friend Finder. It's perfectly safe and Facebook does not store your password.
5

If the features of Friend Finder are fine with you, feel free to add your online contact list.

Facebook won't lie, but be sure you read every notification message before agreeing to any Facebook activity.