How to Set Up a Findmypast.com Free Trial
How to Set Up a Findmypast.com Free Trial
Findmypast.com is one of a few sites owned by brightsolid online publishing. It focuses on records from the United States, United Kingdom, Ireland, Australia, and New Zealand. You can find census records, census substitutes, vital records, newspapers, military records, and some passenger lists. Some of the record sets are just textual, and others are a digitized image.
You can get a 14-day free trial by following these steps:
The findmypast.com home page appears.
2

Click the Sign Up Today 14-Day Free Trial button.

The button is located in the upper-right corner of the home page. A subscription page appears with two tabs: one for a World subscription, and the other for a U.S. subscription. Select the appropriate tab for the records that interest you.
3

Click the Start Free Trial button.

The button is located in the three columns that contain the 1 month, 6 month, and 12 month subscription periods. Select the 1 month column to limit the amount of charges, should you forget to cancel the subscription during the free-trial period.
4

Fill out the registration form and click the Register to Start Free Trial button.

The Payment Details page appears.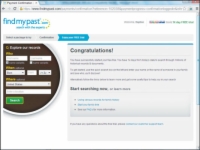 5

Complete the payment details fields and then click the Continue button.

The Congratulations Page appears. On the left is a search form that you can use to begin your first search on the site.
6

Complete the First Name and Last Name fields. If you want to limit the results based on time and location, complete the When and Where fields.

The When field has a drop-down menu that contains Born, Died, and Other event choices. You can also add a date range from the field next to the year field. It defaults to the –/+ 2yrs setting.

The Where field has a drop-down menu in which you can choose one of four countries, or you can broaden your search and choose the World. To further refine your results, you can type in a location.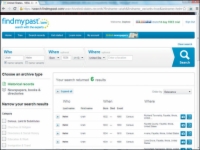 7

Click the Search button.

The search results page appears. The left column contains filters that you can use to focus the results. The right column lists the search results.
8

To filter the results, click a category (or categories) in the left column.

Details about the specific record appear beneath the search result. You can create filters on country, state, county, city/township, census year, other household member, record collection, record set, optional keywords, and race.
9

Click the plus sign next to the name of the person in the search result.

Details about the specific record appear beneath the search result.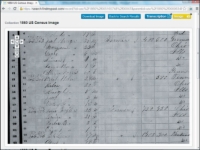 10

Click the Transcription icon ( blue paper icon) or the Image icon (camera icon).

If you click the Transcription icon, the transcription page containing textual information taken from the record displays.

If you click the Image icon, the image viewer appears.
11

Click the Download Image button.

Your web browser downloads the image as a .jpg file.