There are a few things you need to know about receiving GEDCOM (GEenealogical Data COMmunication) files. Just as you would be careful about trusting information written out in a report or chart, you need to be careful before importing someone else's GEDCOM file into your genealogical database. If they have wrong information about an ancestor you share, you could corrupt your whole database and set you back in your efforts.

Lucky for you, there's an application that can help you identify inconsistencies in a GEDCOM file. This helps you find information that may need to be corrected before or shortly after you import the file into your database. It's called gedantic. Here's how to use it:
Open a web browser and head over to gedantic.
Click the Select File button.
Search in your computer directory for a GEDCOM file. Select the file and click Open.

The gedantic program runs against the file and generates a report of potential problems. Across the top of the report are categories that will help you restrict the types of inconsistencies into a manageable number. The categories are All, Problem, Families, Missing Data, Individuals, and Sources.

Click on a blue box identifying a potential type of problem in the file. This generates a list of things to review or double-check in the file to determine whether you need to fix or clean up something. For example, you can see a list of Children of Young Parents for one of Matthew's Helm-Proven GEDCOM files. You want to review the people identified on this list to see if there might have been an error on the parent's or child's date of birth to ensure they are correct.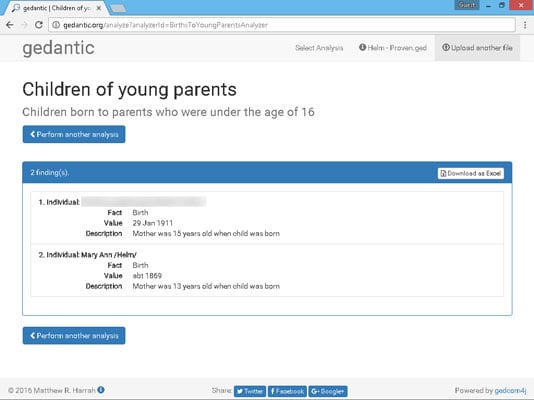 A gedantic analysis of Children of Young Parents in a GEDCOM file.
About This Article
This article is from the book:
This article can be found in the category: