The amount of available family history resources has skyrocketed in the last couple of decades. This is an exciting time for genealogy research because scanned images of key records are coming online at an unprecedented rate. Also, technologies such as DNA testing have been refined and are now invaluable tools that complement evidence from paper records. And, there are many apps available for genealogy research and building a family tree now.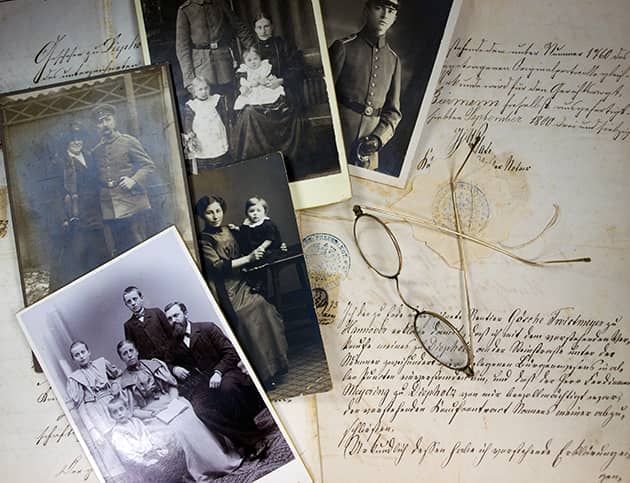 ©Anhees / Adobe Stock
Primary sources for genealogy research
For the budding and experienced genealogist alike, Primary sources are documents, oral accounts — if the account is made soon after the actual event and witnessed by the person who created the account — photographs, or any other items created at the time of an event. Some primary sources for looking into your family background include birth and marriage certificates, deeds, leases, diplomas or certificates of degree, military records, and tax records.

For example, a primary source for your birth date is your birth certificate. Typically, a birth certificate is prepared within a few days of the actual event and is signed by one or more witnesses to the birth.

The timeliness and involvement of direct witnesses makes the information contained on the record (such as the time, date, and parents' names) a reliable firsthand account of the event.

It's important to recognize that just because a record was prepared near the time of an event doesn't mean that every fact on the record is correct. Typographical errors can occur or incorrect information can be provided to the creator of the record. Often, these errors are not caught when the record is created. For example, in the case of a birth certificate, new parents are preoccupied with things other than government paperwork during their stay at the hospital.

When our youngest child was born, the birth certificate application was created and presented to us for signature. After reading it, we discovered three pieces of incorrect data. Fortunately, we were able to correct the birth certificate before it was submitted to the county clerk — even though the hospital clerk wasn't too happy about re-creating the document multiple times. So, it's always a good idea to try to find other primary records that can corroborate the information found in any record.

For much more about sources, creating a family history timeline, helpful apps, and much more about genealogy research, check out our book Genealogy For Dummies, 8th Edition.
Sources considered primary & secondary
Secondary sources are documents, oral accounts, and records that are created some length of time after the event or for which information is supplied by someone during your ancestors' time who wasn't an eyewitness to the event. A secondary source can also be a person who was an eyewitness to the event but recalls it after significant time passes.

You might encounter records such as a Delayed Report of Birth or an affidavit that contain a birth date that is based upon a person's recollection of when a birth occurred. Some of these records may have a witness who testifies that a birth occurred thirty years earlier.

Some records may be considered both primary and secondary sources. For example, a death certificate contains both primary and secondary source information. The primary source information includes the death date and cause of death. These facts are primary because the certificate was prepared around the time of death, and the information is usually provided by the medical professional who pronounced the person dead.

The secondary source includes the birth date and place of birth of the deceased individual. These details are secondary because the certificate was issued at a time significantly later than the birth (assuming that the birth and death dates are at least a few years apart).

Secondary sources don't have the degree of reliability of primary sources. Often, secondary source information, such as birth data found on death certificates, is provided by an individual's children or descendants who may or may not know the exact date or place of birth and who may be providing information during a stressful situation. Given the lesser reliability of secondary sources, we recommend corroborating your secondary sources with reliable primary sources whenever possible.

As you're researching your family line, remember that even though secondary sources are not as reliable as primary sources, it doesn't mean secondary sources are always wrong or aren't useful. A good deal of the time, the information is correct, and such records provide valuable clues to locating primary source information. For example, in the case of a birth date and birthplace on a death certificate, the information provides a place and approximate timeframe you can use as a starting point when you search for a birth record.

To begin familiarizing yourself with using primary sources, start collecting some records that document milestones you know are part of your family heritage. You can start making a timeline of what you know and then try to match primary sources for each event in your timeline. Twile

For additional information on primary sources, see Using Primary Sources at the Library of Congress website for teachers. And, for strategies on using primary sources online, see the Reference and User Services Association (of the American Library Association) page.
Using genealogical applications
You can use an online timeline to document your life, but a full-featured option is to use a tool of the genealogy trade from the beginning — a genealogical application.

Over time, people collect a ton of information about their genealogies. You need something to help you keep everything straight and make sense of it all. Not only can a genealogical application keep track of the names, dates, and places of your ancestors, but it can also show you the gaps in your research and point you where to go next.

Nowadays, you encounter two different flavors of genealogical applications — those installed on your personal computer and those available on online family trees. Each type of application has pros and cons. Of course, you don't have to pick one or the other — you could be like us and use both kinds at the same time!

Both types of applications can store and manipulate your genealogical information. They typically have some standard features in common. For instance, most serve as containers for family facts and stories, have some reporting functions to see the data contained within them, and have export capabilities so that you can share your data with other family historians (or with another application).

Each application may have a few unique features that make it stand out from the others. For example, one might have the capability to take information out of the application and generate online reports at the click of a button or integrate with data stored on subscription genealogical websites.

Here's a list of some simple features to look for when evaluating applications:
How easy to use is the application? Is it reasonably intuitive how and where to enter particular facts about an ancestor?
Does the application generate a view of its data so that you can take the next step in your research? For instance, if you're partial to Family Group Sheets, does this application display information in that style?
Does the application allow you to export and import a GEDCOM file? What other formats does it export to? GEDCOM is a file format that's widely used for genealogical research.
What are the limitations of the application? Make sure the application can hold an adequate number of names, documents, and photographs (and accompanying data) to accommodate all the ancestors about whom you have information. Keep in mind that your genealogy continues to grow over time.
Can your current computer system support this application? If the requirements of the application cause your computer to crash every time you use it, you won't get very far in your genealogical research.
Does this application provide fields for citing your sources and keeping notes? Including information about the sources you use to gather your data — with the actual facts, if possible — is an important and a sound genealogical practice.
Does this application have features that warn you of incorrect or incomplete data? For example, some applications check the place-name that you enter against a database of locations and suggest a standard way of spelling the location.
Does the application integrate with genealogical websites? Integrating content between websites and genealogical software is an easy way to build your genealogical database, as well as to share your findings with others.
When importing information from genealogical websites directly into your application, keep in mind that you need to take the extra step to verify the information and attach sources to the imported information. Some sites do not attempt to verify the information they contain, and without proper vetting you may download incorrect data.
About This Article
This article is from the book:
This article can be found in the category: