How to Narrow Your Genealogical Starting Point
How to Narrow Your Genealogical Starting Point
When starting your genealogy search, you need to select the right relative/ancestor as your starting point. If you aren't sure how popular a name is, try visiting a site with surname distribution maps. The publicprofiler worldnames search site, maintained by University College London, allows you to enter a surname and find locations across the world where the surname is most prevalent.
The site includes charts for the top countries, regions, and cities for the surname. Here's what to do:
1

Open your browser and go to the publicprofiler worldnames search site.

The site appears with a search form at the top.
2

Type the surname you're researching in the Map Your Surname field.

Type your e-mail in the My Email field and select the appropriate gender radio button.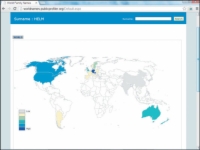 3

Click Search.

The color surname distribution map appears. The surname is more frequent in areas colored in deep blue. The tables at the bottom of the page provide more details on the surname.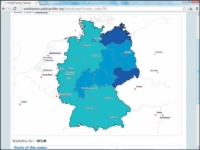 4

To get a closer look at a particular area, click the country on the map and you see the regional level.

The figure shows the frequency of the Helm surname in Germany.

A good reason to check out distribution maps is that you can use them to identify potential geographic areas where you can look for your family during the years covered by the site.

If you hit a wall and can't find additional information online about a particular individual or the surname, you know you can start looking at records in these areas to find more clues about families with the name. By doing so, hopefully, you'll find your branch.