How to Interpret FamilySearch Results
How to Interpret FamilySearch Results
Although you may not receive as many results for your genealogy in FamilySearch as in Ancestry.com, it's still important that you know how to navigate the results to save you time.
The search results page is divided into two columns. The left column contains filters that you can use to limit the search results. The right column lists the results. The most relevant results appear near the top. Other records that might have relevance appear under the blue box titled "The following results don't strongly match what you searched for, but may be of interest."
Each search result is divided into four columns: Name, Events, Relationships, and Preview. The Name column includes the Name of the person and the name of the collection where the person is found. A camera icon next to the collection indicates that the collection includes images.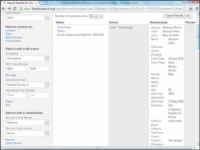 1

Click the small arrow in the Preview column.

The Preview column expands and shows more information in the column. In this case, additional information is shown in the Relationships column about Ninevah Helm, son of Uriah Helm, who died in 1935.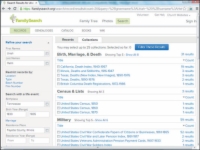 2

To sort your search results by record category, click the Collections tab.

The Collections view appears. The top five collections are displayed under each category. You can filter multiple categories by selecting the check box to the left of each collection. The maximum number of collections that you can select is 25.
3

You can filter the results on the Records tab at the bottom of the first column, if you desire.

The filters include collection, birthplace, birth year, residence place, residence year, death place, death year, other place, other year, and gender.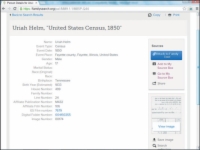 4

Click the name of the person under the Name column.

The record view appears. The record view shows details such as gender, age, marital status, and publication information.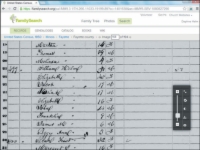 5

If an image is available (as noted in the right column), click the View Image link.

The image viewer is launched. You can use the floating toolbar on the right side of the screen to zoom in and out, rotate, invert the color, save, and print the image.
6

Click the Print icon in the floating toolbar.

The web browser print window appears, allowing you to select options for printing.
7

Click the back button on your web browser to return to the record view.

The web browser print window appears, allowing you to select options for printing.
8

If you have an online family tree at FamilySearch, click the Attach to Family Tree button.

Note that this is a different online family tree than the one created at the Ancestry.com site.