How to Install non-Lion Operating Systems in Desktop Virtualization Software
How to Install non-Lion Operating Systems in Desktop Virtualization Software
For operating systems other than Mac OS X Lion, you can use either a bootable OS installer DVD or a disk image. Both Parallels Desktop and VMware Fusion launch an installation assistant that guides you through the setup. In either program, the assistant can recognize a Windows installation DVD.
The procedures for installing a non-Lion OS in Parallels Desktop, VMware Fusion, and VirtualBox are very similar. Here, Parallels Desktop is used as an example:
1

Insert the operating system's install DVD, if you're using one, into the Mac.

If you're using a disk image, proceed to the next step.
2

Launch Parallels Desktop.

The Virtual Machine Assistant opens. If it doesn't, choose File@@→New.
3

Select your DVD drive or a drive image from the Install From pop-up menu and then click Continue.

If you installed a Windows installation disk, Parallels Desktop will probably recognize it. If so, enter a Windows product key in the dialog that asks for it, and click Continue.

If you're not installing Windows, proceed to the next step.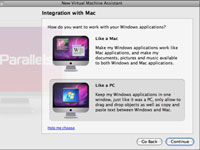 4

In the Integration with Mac window, choose one of the following, and click Continue:

Like a Mac: Hides the guest OS desktop, and applications in the guest OS float freely along with Mac OS X windows.

Like a PC: Displays the entire guest operating system in one window.

You can always change this setting later.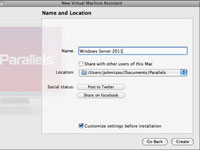 5

In the Name and Location screen, type a name for the virtual machine.

Optionally, you can change the default location of the virtual machine data by clicking the Location pop-up menu and browse to a folder. Also optional, is the ability to change settings before installing the guest OS by clicking the Customize Settings Before Installation check box.
6

Click the Create button.

If you clicked Customize Settings Before Installation, a settings window appears, in which you can set the number of CPUs and RAM for the virtual machine. You can do this later, but the installation process could be very slow if the settings aren't right.

The new virtual machine boots from the operating system's install DVD or disk image — within a window on your Mac. You first see a black screen, followed by the operating system's installer starting up in the virtual machine.