How to Install Lion or Lion Server in VMware Fusion
How to Install Lion or Lion Server in VMware Fusion
Installing Lion or Lion Server is different from installing any other operating system. With any other operating system, the standard procedure for creating virtual machines is to boot a new, empty virtual machine with a real installation DVD and install the OS as if you were installing on a real computer. This doesn't work for Lion, which doesn't come on (or let you create) a bootable DVD or disk image.
With Fusion 4, VMware has engineered a way around the lack of an installer DVD. You simply begin to create a new virtual machine and drag the Lion installer file into the first window that appears. You need to have a copy of the Lion installer before you start. Here's how it's done: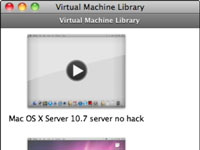 1

Launch VMware Fusion and choose Window→Virtual Machine Library.

The Virtual Machine Library window appears. It displays any Mac, Windows, or Linux virtual machines you already have installed.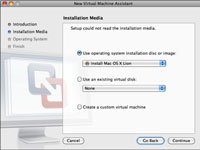 3

Drag the Lion installer file (Install Mac OS X Lion) from the Finder into the Virtual Machine Assistant window.

The Installation Media window appears. VMware Fusion treats the Lion installer as though it were a bootable DVD or a disk image. The Virtual Machine Assistant has selected Use Operating System Installation Disc or Image, and the Install Mac OS X Lion file is listed in the pop-up menu. Don't change these settings.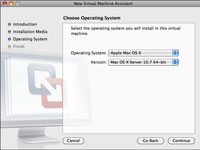 4

Click the Continue button.

The Choose Operating System window appears, with the correct settings in place: Apple Mac OS X is selected as the operating system, and Mac OS X Server 10.7 64-bit is selected as the version.
5

Click Continue.

A summary screen appears.
6

Click the Finish button.

Give your virtual machine a name in the new dialog that appears and then click the Save button. The name should be descriptive, such as Lion Mail Server Test.
7

(Optional) Use the Where pop-up menu to change the location of the virtual machine file.

The virtual machine starts up, and the Lion installer launches, landing you at the Welcome screen. You can now proceed with the Lion installation.

If you want to change any of the settings, such the type of networking, RAM, or others, first shut the virtual machine down as you normally shut down Mac OS X, such as by choosing Apple menu→Shut Down inside the virtual machine. Then choose Virtual Machine→Settings.