10 Great Cloud Computing Resources
10 Great Cloud Computing Resources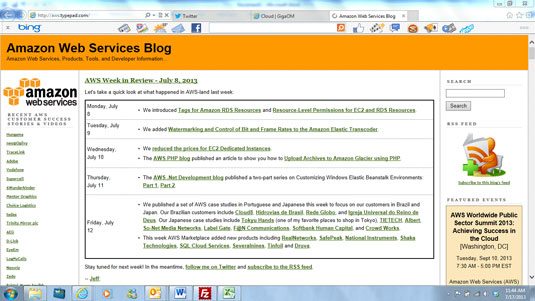 110
The main AWS blog
The Amazon Web Services blog is a useful place to read about the latest developments in AWS. New products and features are first announced on the AWS blog, so it has the latest info on Amazon's cloud computing service.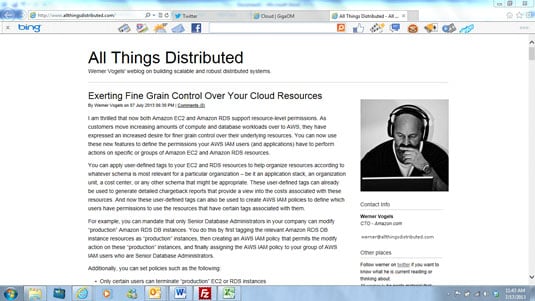 210
Werner Vogels' blog
Werner Vogels has an important job: He is the chief technology officer at Amazon. As it so happens, he is also heavily involved with AWS. His blog offers great insight about new AWS features and why they have been developed, along with discussions about how AWS customers are applying Amazon's technology to address their business objectives. If you want to get some inside knowledge on AWS, look to Werner's blog.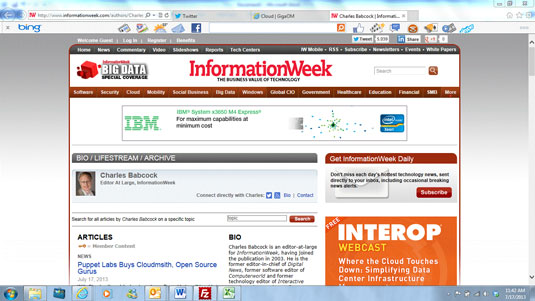 310
Charles Babcock
Charles Babcock is a reporter for InformationWeek, and is of the very best technology journalists on the cloud computing beat. In contrast to many technology reporters, Charles truly understands the topic, so his reporting is deeply informed. He covers the latest cloud computing developments and provides commentary, which can help you distinguish between facts and hype.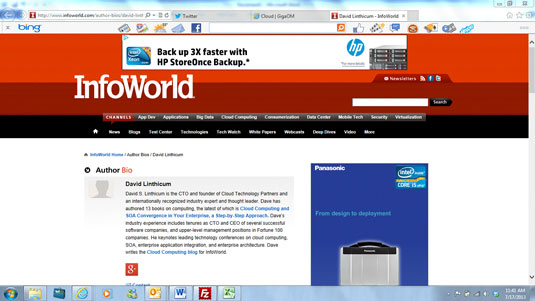 410
David Linthicum
David Linthicum, a writer for InfoWorld, sits on list after list of the most important cloud computing thought leaders. He has been involved in the field from the beginning, and he has a long-time background in software company leadership. David's writing reflects real-world experience from a practitioner's perspective.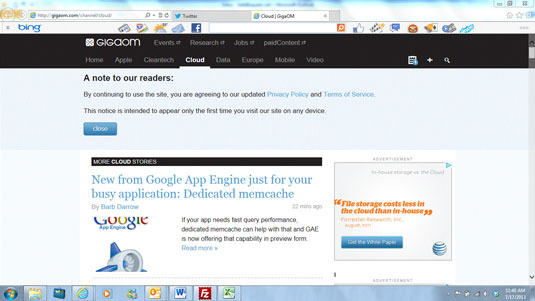 510
GigaOm
GigaOm, a phenomenal resource about cloud computing, was founded by Om Malik, a longtime technology journalist who set up his own company to cover Silicon Valley innovation and start-ups. GigaOm has grown much larger than those roots; it now actively covers technology from around the world, runs highly regarded conferences, and has a respected technology-analysis arm.
GigaOm covers cloud computing extensively, with several writers who cover both business and technology aspects of the field. Check out GigaOm's cloud coverage.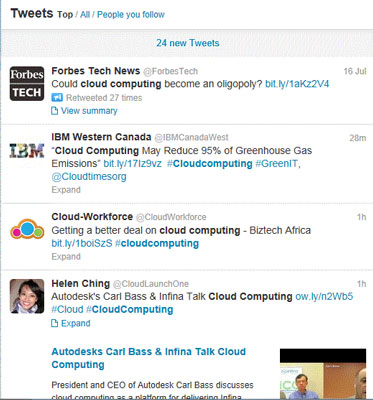 610
Twitter
Want to know the latest on cloud computing? Want to hear unrestrained debate on the topic du jour? Want to find pointers to interesting and important resources to further educate yourself on cloud computing? Well, then — Twitter is your friend. Here are two hashtags you should track on Twitter:
#cloudcomputing: A general hashtag for All Things Cloud, it has lots of active discussion, some back-and-forth debate on current cloud events, and many, many pointers to articles or announcements that are important to cloud computing. The #cloudcomputing hashtag is lively and opinionated, and it's lots of fun.
#aws: This hashtag focuses specifically on Amazon Web Services and is well worth following. The people who post to this hashtag are curious about AWS, looking for knowledge and tips, and interested in sharing important AWS news.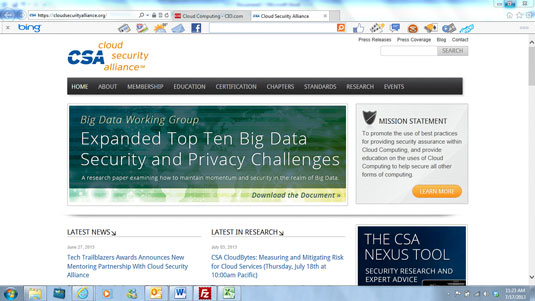 710
Cloud Security Alliance (CSA)
Security is the number-one concern people raise about cloud computing. This perennial issue is discussed at cloud computing conferences. If you're concerned about cloud security, the Cloud Security Alliance (CSA) offers a huge set of resources to help find answers to your questions.
Experienced security practitioners founded CSA because they recognized that cloud computing requires security practices designed specifically to address its unique infrastructure and environment. The CSA does more than simply talk about the issue, though: It publishes valuable guides and best practices regarding security practices, CSP security assessments, and mapping of existing industry compliance regimens to cloud environments.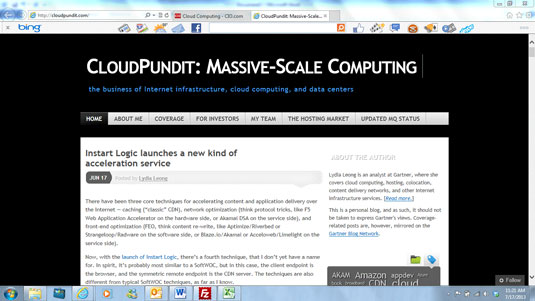 810
Lydia Leong
Lydia Leong, an analyst who works for Gartner, is one of the top cloud computing analysts in the field. Earlier in her career, Lydia held hands-on IT jobs, so she knows whereof she speaks. In contrast to many other analysts, she is unafraid to speak bluntly on issues, which is enormously helpful to those trying to understand the nuances of cloud computing issues. Her writing is informative and refreshing.
Check out her blog, Cloud Pundit.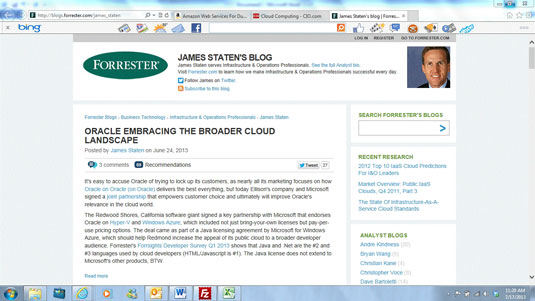 910
James Staten
Another analyst you should track is James Staten, of Forrester. Like Lydia Leong, James is unafraid to speak his mind. His rants on the topic of the private cloud are legendary in the industry and, to my mind, persuasive.
He is particularly acute on the dynamics of how cloud computing is upending the established practices of the IT industry, and has written a terrific guide for those wanting to understand what the future of the industry may look like.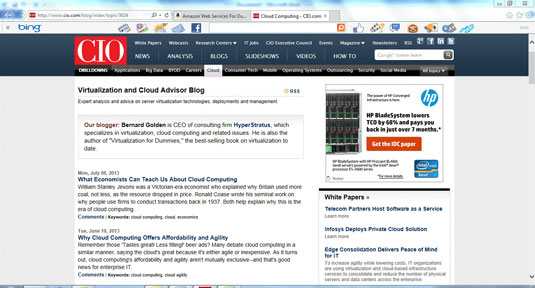 1010
Bernard Golden
The cloud computing advisor for CIO magazine, Bernard Golden has been honored by being named to more than ten "top cloud blogs" lists in the past three years. At his blog, he discusses how to architect applications for cloud environments, how to navigate the changing nature of IT in a cloud computing world, and how cloud computing affects IT economics.