How to Customize Your Data with Parameters in Tableau
How to Customize Your Data with Parameters in Tableau
In Tableau, you can put both calculated fields and parameters to use in a view. For this example, you'll use the Growth Percentage parameter to create a visualization that shows the projected sales that result from choosing different values for the parameter.
To create this example, follow these steps: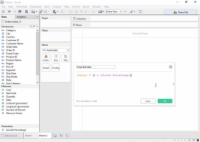 1

Create a new calculated field named Projected Sales by entering the formula in the Equation Editor.

The Equation Editor will help you accomplish this.
2

Add the Sales and Projected Sales measures to the view on the Rows shelf. Also, add Category to the view on the Columns shelf.

You should see an arrow on the right.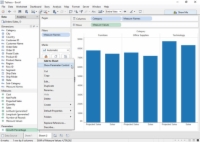 3

Click the arrow at the right side of the Growth Percentage parameter.

This displays its pop-up menu.