Big Data
What's the biggest dataset you can imagine? Well, multiply that by a thousand and you're probably still not close to the mammoth piles of info that big data pros process. Learn all about it here.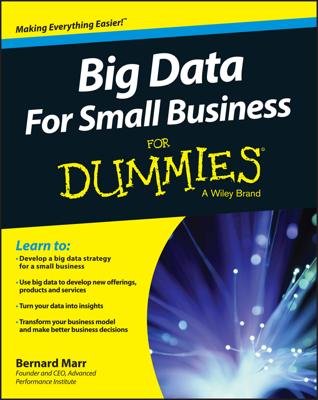 Big Data
Big Data For Small Business For Dummies
Capitalise on big data to add value to your small business Written by bestselling author and big data expert Bernard Marr, Big Data For Small Business For Dummies helps you understand what big data actually is—and how you can analyse and use it to improve your business. Free of confusing jargon and complemented with lots of step-by-step guidance and helpful advice, it quickly and painlessly helps you get the most from using big data in a small business. Business data has been around for a long time. Unfortunately, it was trapped away in overcrowded filing cabinets and on archaic floppy disks. Now, thanks to technology and new tools that display complex databases in a much simpler manner, small businesses can benefit from the big data that's been hiding right under their noses. With the help of this friendly guide, you'll discover how to get your hands on big data to develop new offerings, products and services; understand technological change; create an infrastructure; develop strategies; and make smarter business decisions. Shows you how to use big data to make sense of user activity on social networks and customer transactions Demonstrates how to capture, store, search, share, analyse and visualise analytics Helps you turn your data into actionable insights Explains how to use big data to your advantage in order to transform your small business If you're a small business owner or employee, Big Data For Small Business For Dummies helps you harness the hottest commodity on the market today in order to take your company to new heights.
Explore Book
Buy On Amazon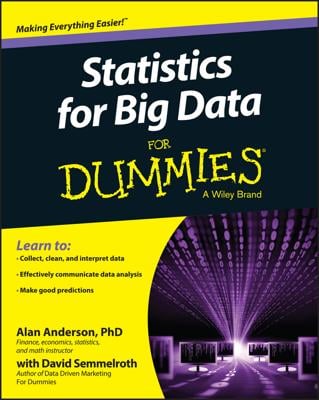 Big Data
Statistics for Big Data For Dummies
The fast and easy way to make sense of statistics for big data Does the subject of data analysis make you dizzy? You've come to the right place! Statistics For Big Data For Dummies breaks this often-overwhelming subject down into easily digestible parts, offering new and aspiring data analysts the foundation they need to be successful in the field. Inside, you'll find an easy-to-follow introduction to exploratory data analysis, the lowdown on collecting, cleaning, and organizing data, everything you need to know about interpreting data using common software and programming languages, plain-English explanations of how to make sense of data in the real world, and much more. Data has never been easier to come by, and the tools students and professionals need to enter the world of big data are based on applied statistics. While the word "statistics" alone can evoke feelings of anxiety in even the most confident student or professional, it doesn't have to. Written in the familiar and friendly tone that has defined the For Dummies brand for more than twenty years, Statistics For Big Data For Dummies takes the intimidation out of the subject, offering clear explanations and tons of step-by-step instruction to help you make sense of data mining—without losing your cool. Helps you to identify valid, useful, and understandable patterns in data Provides guidance on extracting previously unknown information from large databases Shows you how to discover patterns available in big data Gives you access to the latest tools and techniques for working in big data If you're a student enrolled in a related Applied Statistics course or a professional looking to expand your skillset, Statistics For Big Data For Dummies gives you access to everything you need to succeed.
Explore Book
Buy On Amazon
Big Data
Big Data For Dummies
Find the right big data solution for your business or organization Big data management is one of the major challenges facing business, industry, and not-for-profit organizations. Data sets such as customer transactions for a mega-retailer, weather patterns monitored by meteorologists, or social network activity can quickly outpace the capacity of traditional data management tools. If you need to develop or manage big data solutions, you'll appreciate how these four experts define, explain, and guide you through this new and often confusing concept. You'll learn what it is, why it matters, and how to choose and implement solutions that work. Effectively managing big data is an issue of growing importance to businesses, not-for-profit organizations, government, and IT professionals Authors are experts in information management, big data, and a variety of solutions Explains big data in detail and discusses how to select and implement a solution, security concerns to consider, data storage and presentation issues, analytics, and much more Provides essential information in a no-nonsense, easy-to-understand style that is empowering Big Data For Dummies cuts through the confusion and helps you take charge of big data solutions for your organization.
Explore Book
Buy On Amazon