How to Add Trend Lines in Tableau
How to Add Trend Lines in Tableau
You can easily add trend lines to your Tableau visualization. Trend lines display data trends using lines of best fit based on statistical models. Essentially, this means that trend lines use your existing data to help determine whether results can be accurately predicted.
With trend lines, you can answer questions such as whether profit is predicted by sales or if average delays at an airport are significantly correlated with the month of the year. Trend lines use statistical models to help you determine whether the value of one variable helps you predict the value of another. For example, would you expect to wait longer at the airport in December than you would in October?
To add trend lines to the view, follow these steps:
1

Add Sales to your Rows shelf and the Month Year option for Order Date to your Columns shelf.

You should see the Analytics tab.
2

Open the Analytics tab of the Data pane.

You will see options for your visualization.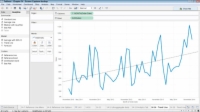 4

Choose one of the model types for the line before you release the mouse button.

Here is the result of selecting the Linear model.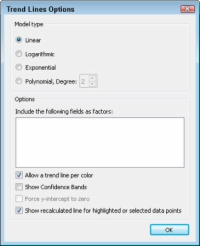 5

To modify a trend line, right-click the trend line and choose Edit Trend Lines from the menu that appears.

Doing so brings up the Trend Lines Options dialog box.