How to Take Action Shots of People Using Your Digital SLR
How to Take Action Shots of People Using Your Digital SLR
Your digital SLR camera is good at taking action shots and you may as well put it to use catching your kids in their non-stop activities and friends and family in athletic pursuits. The process requires just a bit of attention: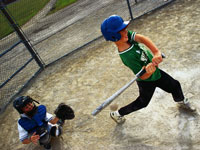 1

Choose a vantage point.

You want your subject against an innocuous background, such as a group of trees, a plain wall, or anything else that won't detract from the image. You can try for a different perspective above or below the action; just make sure you have an unobstructed view.
2

Enable the proper camera settings.

When setting up your camera for action shots, choose Single Shot Drive mode unless you want a series of images, in which case, opt for Continuous Drive mode. To stop the action, shoot in Shutter Priority mode. Your shutter speed will range between 1/250 of a second and 1/15 of a second. Pick the lowest ISO setting for the available light conditions. The focal length you choose — generally 100mm or longer — helps you get an up-close-and-personal image without requiring that you get up close and personal when taking it. And turn on the Image Stabilization feature if you have it.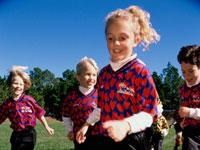 3

Focus on your subject.

Press the shutter button halfway to achieve focus. When you photograph with Continuous Auto-Focus mode enabled, the camera updates focus when your subject moves as long as you keep your finger pressed halfway on the shutter button.

When photographing someone moving, leave some room in front of the subject to give the viewer the impression that she's going somewhere.
4

Start a smooth pivot from the waist to pan the camera with the subject.

Stay perfectly upright and keep the camera level as you pan; Otherwise, you'll get a tilted, head-bobbing picture.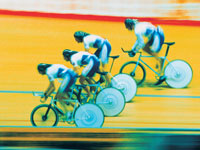 5

Press the shutter button fully to take the picture, and follow through.

Keep your body and the camera pivoting throughout the shot and beyond. In photography and in sports, follow-thorugh is key.

For pictures of athletes in action, shoot in Shutter Priority mode with a slow shutter speed. The low ISO setting gives you a noise-free image — as well as a small aperture, but depth of field is really not important with this type of photography. You can render an abstract image that shows the beauty of an athlete in motion. For example, you can show a runner's head and torso to identify her, but make her arms and legs an artistic blur.