Sony Alpha SLT-A65/A77 For Dummies Cheat Sheet
Sony Alpha SLT-A65/A77 For Dummies Cheat Sheet
Taking photographs with a Sony Alpha A65/A77 means choosing shooting modes and adjusting exposure and aperture settings. Location and lighting determine your scene choices: Night View, Portrait, or Sports Action are options. Identifying your A65's or A77's dials and buttons helps you quickly play back photos for review.
Finding Buttons, Dials, and Controls on Your Sony Alpha A65/A77
Where are the buttons — like Preview and flash — on your Sony A65 or A77? The playback and exposure buttons aren't explicitly labeled, and the USB port control dial aren't easy to find. The following images can tell you where everything on your camera is.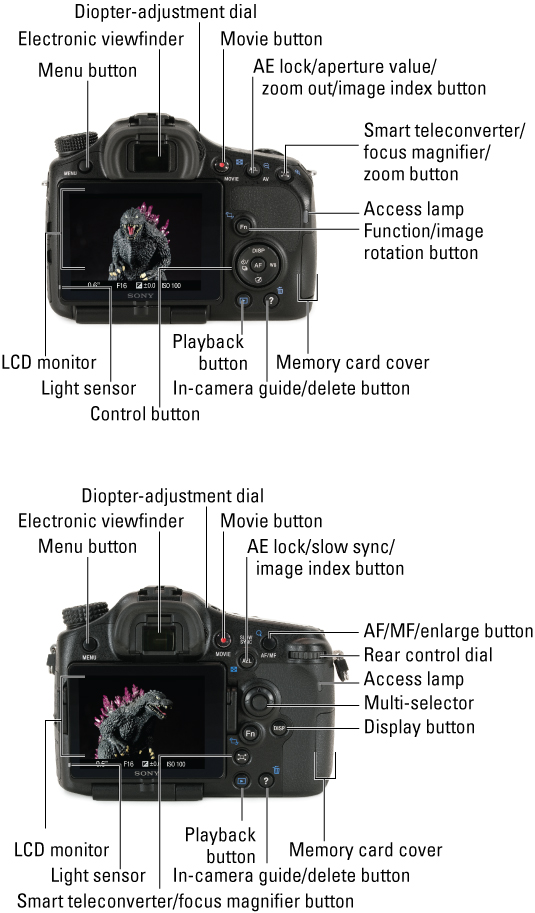 Choosing Sony Alpha A65/A77 Shooting Modes
What shooting mode should you use? Your Sony Alpha A65/A77 has modes you can choose based on how the photo should look, the situation, and your photographic experience level. Are you taking action shots of a sports game? Are you taking portraits for the holiday card?
Basic and Advanced Shooting Modes

Name
Description
Auto
Automatic mode. Your camera makes most decisions. Use when
you're getting to know about your camera and photography, or when
you want to relax and have fun.
Auto+
Auto, plus recognizes some shooting conditions.
Flash Off (A65 only)
Auto, but with flash disabled.
Scene Selection
Choose a scene, such as Portrait or Landscape, that matches the
shooting conditions and your subject.
Sweep Panorama
Create panoramas.
3D Sweep Panorama
The same as Sweep Panorama, only in 3D photos.
Continuous Advance Priority AE
Achieves the fastest frame rate.
P (Program Auto)
Automatic exposure, but you control creative settings.
A (Aperture priority)
You set aperture; the camera sets the rest for proper exposure.
Good for portraits, landscapes, and close-ups.
S (Shutter speed priority)
Aperture priority but instead, you set shutter speed. Good for
action (yours and your subject's).
M (Manual exposure)
You make all exposure and function decisions.
Movie
A more advanced movie mode, with P, A, S, and M sub-modes.
Memory Recall (A77 only)
The A77's mode that stores and recalls up to three
different presets that you create.
Choosing Sony Alpha A65/A77 Scenes
In the Sony Alpha's A65/A77 Scene Selection mode, you choose a scene per the kind of photo you're taking: portraits, action, and nighttime shots benefit from different Scene Selection modes; and macros and panoramas are two ends of the shooting spectrum in Scene Selection.
Scene Selections


| Name | Description |
| --- | --- |
| Portrait | Creates a pleasing photo with a blurred background. |
| Sports Action | Tries to take a sharp photograph of moving objects. |
| Macro | Takes close-ups. |
| Landscape | Takes sharp photos so things at a distance are in focus. |
| Sunset | Takes good photos of bright sunsets. |
| Night View | Keeps city lights bright but the night sky dark. |
| Hand-held Twilight | Takes hand-held photos at night. |
| Night Portrait | Takes photos of people at night. |


Special Effects on the Sony Alpha A65/A77
The Sony Alpha A65 and A77 have a Picture Effect mode. Picture effects are with Scene Selection on the mode dial. Each effect is unique and makes your images and videos pop.
Name
Effect
Posterization (Color)
Creates abrupt changes in tone with no or very little gradient
and using a limited palette. Posterized photos look like something
out of a graphic novel.
Posterization (B/W)
Creates an effect similar to Posterization (Color) but in black
and white. Photos taken with this effect look like pen and ink
drawings.
Pop Color
Adds zing to colors.
Retro Photo
Reduces contrast color, creating a photo that looks aged,
complete with subtle sepia tones.
Partial Color (Red)
Singles out and shows reds while converting everything else to
black and white.*
Partial Color (Green)
Singles out and shows greens while converting everything else
to black and white.*
Partial Color (Blue)
Singles out and shows blues while converting everything else to
black and white.*
Partial Color (Yellow)
Singles out and shows yellows while converting everything else
to black and white.*
High-Key
Takes bright, happy, softer-than-normal photos.
High-Contrast Monochrome
Creates a black-and-white photo that has more contrast than
normal.
Toy Camera
Simulates a photo taken with a really cheap camera. Colors are
bright but corners are shaded (vignetted).
Soft Focus
Very softly focused photos.
HDR Painting
Three exposures are processed into a single HDR image.
Rich-Tone Mono
Three exposures are processed into a single, black-and-white
HDR image.
Miniature
Simulates Tilt Shift, focusing on a small part and blurring
everything else. Results look like a miniature scene.
*The challenge with partial color is finding the right scene with the right colors to show off the contrast between the selected color and the rest of the black and white photo.