Use Photoshop to Achieve Sharpness in Your Dog Photos
Use Photoshop to Achieve Sharpness in Your Dog Photos
No matter how skilled your trigger finger is, even the best photographers can sometimes end up with soft (or slightly out-of-focus) images. The good news? Photoshop has a pretty powerful feature for sharpening your dog photos.
The bad news? Although it's a sophisticated feature, Photoshop's sharpening function can only do so much; it really only creates an illusion of a sharper image by increasing the contrast around any edges in the photo.
To sharpen a soft image in Photoshop, follow these steps: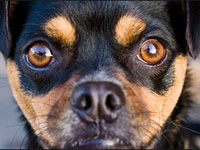 1

From the Photoshop toolbar, choose Filter→Sharpen→Unsharp Mask.

The effects of sharpening should be subtle enough so that you don't degrade your image. Use textured areas, like the dog's fur, to gauge whether you've gone too far. The fur should have some definition, but you don't necessarily want every individual strand of hair jumping out at you.

This is one of those tools that must have been created on Opposite Day. The Unsharp Mask actually functions to sharpen your image.
2

In the Unsharp Mask dialog box, make sure the Preview box is checked.

The Preview window shows a small portion of your image. Click and hold down on the Preview window to see how the image looks without sharpening. Release the mouse button to see the image sharpened. Seeing the preview change between sharpened and unsharpened allows you to better see the impact of your settings.
3

Use the Radius slider to increase or decrease the number of pixels around the edges that are included in the sharpening.

As a rule of thumb, never increase your Radius above 2.0 pixels. This control is sensitive; increasing it too much causes the edges in your photo to have a jagged glow, negatively affecting your overall image quality.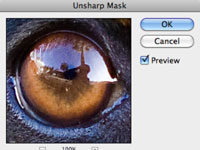 4

Use the Amount slider to increase or decrease the amount of edge contrast (or perceived sharpness) in your photo.

In general, never increase your sharpness above 100 percent. Keep this number somewhere between 75 and 90 percent, depending on how much sharpening is needed.
5

Finally, use the Threshold slider to smooth out some of the areas that may look a little too sharpened.

Start with this slider set at four levels. Areas without a lot of contrast, like skin, can sometimes start to look grainy when you sharpen a photo. Your Threshold setting can smooth that out.
6

When you're satisfied with your preview, click OK.

If your dog's eyes are the central focus of your photo, make them as flawless as possible by sharpening only her eyes. The eyes not only give the viewer a glimpse into your dog's state of mind but can also literally act as mini mirrors, hinting at what was happening in front of your dog at the very moment you took the photo.

Even if your overall image doesn't need sharpening, you can still consider sharpening just your dog's eyes.